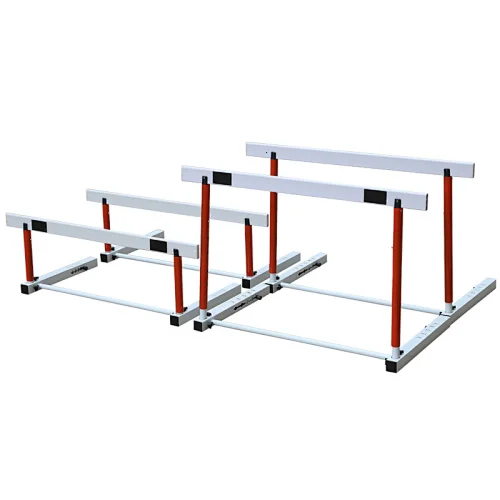 Hurdles
Union Max Fitness specializes in sports training products including the highest quality Hurdles. If you need this product, please feel free to contact us.
Description of

Hurdles
Hurdles are sports equipment used in athletics. They are obstacles that athletes must jump over as they run on the track. The railings are usually made of lightweight steel tube material; obstacles are placed at regular intervals along the track, and athletes must climb over the obstacles without knocking them over. Hurdling is a technical and challenging aspect of athletics that requires a combination of speed, agility and technique.
Product Features of

Hurdles
1. The hurdles are reinforced by high-quality steel pipes, which makes them durable and resistant to damage.
2. The hurdle base is equipped with a bracket that allows for easy disassembly and adjustable elasticity. It is also fixed securely with screws to prevent it from falling off.
3. A counterweight adjustment file is included, which enables the center of gravity of the hurdle to be adjusted according to the athlete's needs.
4. The upright poles of the hurdle have multiple gears that can be adjusted to create hurdles at different angles, making them suitable for various situations.
Specifications of

Hurdles
| | |
| --- | --- |
| Product Name | Hurdles |
| Origin | China |
| Certifications | ISO 9001 |
| Brand | Union Max |
| MOQ | 200 pieces |
| Price | $12.38-30.95/piece |
| Packing | Carton |
| Material | ABS+Steel |
| Height | 550-750cm/762-1067mm |
| Square Tube Specification | 5*5cm |
| Weight | 6kg/piece |
| Usage | Physical Training |