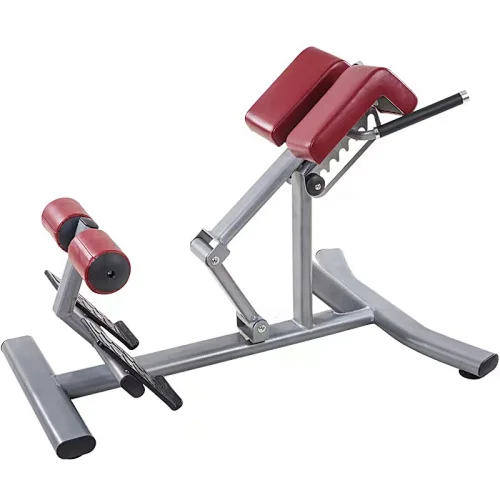 Hyperextension Roman Chair
Hyperextension Roman Chair-1
We offer top-quality Hyperextension Roman Chair for those in need. Please feel free to reach out to us for more information on our products.
Description of Hyperextension Roman Chair
Speaking of the Roman chair, I believe everyone is familiar with it. Among the fitness equipment, the Roman chair is a very effective piece of equipment, and the fitness effect of the Roman chair is still very good. The Roman chair is a kind of fitness equipment that people use to exercise the core. This machine is primarily used on the lower back, but can also target the glutes and abs.
Product Features of Hyperextension Roman Chair
1. High-density pressure-resistant sponge, covered with leather, with good resilience and more comfortable exercise.
2. It is cut into a thickened curved support steel plate, and the height can be adjusted to meet different sports needs.
3. Any 7 gears can be adjusted to adapt to different heights (70-80cm).
4. Thickened pads + non-slip foot pads for better protection. Stainless steel handle, not easy to rust, long use time.
5. Thickened support tube, thickened and thickened steel, stable and safer, and also suitable for commercial use.
6. The contact surface between the Roman chair and the abdomen adopts a V-shaped design, which fits the human body and is more comfortable.
Specifications of Hyperextension Roman Chair
| | |
| --- | --- |
| Product Name | Hyperextension Roman Chair |
| Origin | China |
| Certifications | ISO 9001 |
| Brand | Union Max |
| MOQ | 1 piece |
| Packing | Cartons |
| Material | Steel Pipe |
| Color | Red and Black |
| Tube Thickness | 2mm |
| Load Bearing | 250kg |
| G.W | 40kg |
| Fold | No |
| Applicable | Home, Office, Gym |