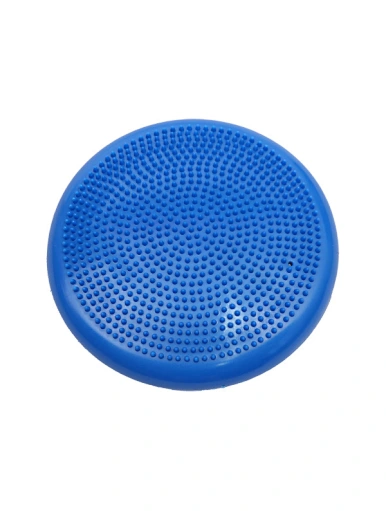 Inflatable Balance Disc
Inflatable Balance Disc-1
Union Max Fitness specializes in manufacturing of Yoga and Pilates products, including Inflatable Balance discs of the highest quality. If you require this product, please do not hesitate to reach out to us.
Description of Inflatable Balance Disc
The function of the inflatable balance disc is to improve and strengthen the strength of the core muscles of the human body. The instability of the equipment can optimize the functions of the human sensory nerve. The stronger the core muscle group of the human body, the more excellent the movements of flexion, extension, jumping, and turning during exercise will be, so the action response process will be shorter, the speed will be faster, and the strength will be stronger. Professional athletes' training for core muscle groups is a top priority. Therefore, for our daily life, whether it is to lose weight or improve physical vitality, exercising the"core muscle group"is the most efficient and effective choice.
The balance disc can also be used as a wobble cushion, which is safe and works well.
Product Features of Inflatable Balance Disc
1. It is a one-piece molding process. You can control the degree of tightness according to your preferences or weight.
2. PVC environmental protection material, moderate elasticity, and explosion-proof quality to improve your experience.
3. Double textured surface ensures a non-slip grip, with raised massage points on one side and smoother bumps on the other.
4. The diameter of the balance disc is 33cm, suitable for both adults and children. It is recommended that children use it with their parents.
5. We give away an inflatable cylinder that is mini and portable. You can inflate a wobble cushion anytime, anywhere.
Specifications of Inflatable Balance Disc
| | |
| --- | --- |
| Product Name | Inflatable Balance Disc |
| Features | Compressive, non-slip, flexible, durable |
| Origin | China |
| Certifications | ISO 9001 |
| MOQ | 20 piece |
| Brand | Union Max |
| Accessories | Hand Pump |
| Net weight | 900g |
| Load bearing | 300kg |
| Price | $3.43/piece |
| Color | Blue, purple, pink, gray,red |
| Application | Indoor and outdoor exercise |
| Material | PVC |
| Usage | Yoga exercise and Pilates |
| Size(Diameter) | 33CM |
| Custom Size & Logo & shape | Please contact us individually for customization |