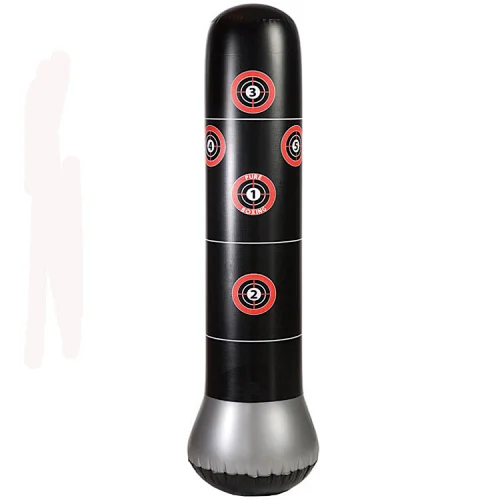 Inflatable Punching Bag
Inflatable Punching Bag-1
Union Max Fitness specializes in boxing training products including the highest quality Inflatable Punching Bag. If you need this product, please feel free to contact us.
Description of Inflatable Punching Bag
Inflatable punching bags are a very useful fitness tool. It can help you do fitness exercises anytime, anywhere without worrying about time and space constraints. Using an inflatable punching bag can increase your body's toughness, enhance your flexibility, coordination and cardiorespiratory ability, thus making you healthier and more energetic. Moreover, the inflatable punching bag also has the advantages of good safety, long service life, and low cost. In conclusion, the inflatable punching bag is a very good fitness tool, it can not only enhance your physical fitness, but also make you more healthy, active and confident in your life.
Product Features of Inflatable Punching Bag
1. The inflatable punching bag is made of soft and elastic materials, and features an internal air-filled design. This helps to cushion the damage caused by the sandbag to the hands, making it a safer option for fitness enthusiasts.
2. The base of the inflatable punching bag is thicker than before, providing a more stable surface for use. This reduces the risk of the punching bag tipping over during use, enhancing safety and ease of use.
3. An upgraded base with a larger capacity for water or sand is included, making it suitable for use on different floors, such as wooden, cement, and tile floors. This adds to the versatility of the punching bag and makes it easier to use in different settings.
4. The punching bag itself is made of thicker PVC material, which enhances its durability and extends its service life. This means that it can withstand frequent use, making it a better value for money investment.
5. The screen printing uses eco-friendly ink, which helps to minimize the odor emitted from the bag. This adds to the overall user experience and makes the inflatable punching bag a more pleasant product to use.
Specifications of Inflatable Punching Bag
| | |
| --- | --- |
| Product Name | Inflatable Punching Bag |
| Origin | China |
| Certifications | ISO 9001 |
| Brand | Union Max |
| MOQ | 100 pieces |
| Price | $5.37-7.43/piece |
| Packing | Carton |
| Material | PVC |
| Color | Black |
| Length | 160cm |
| Usage | Boxing Training |