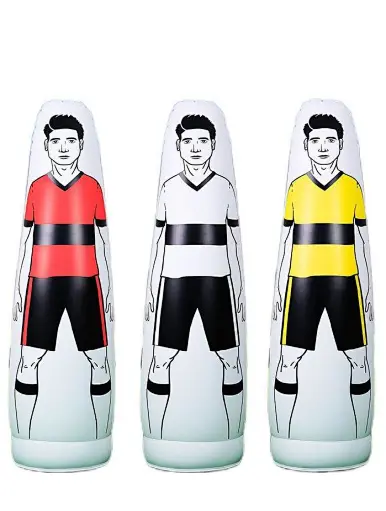 Inflatable Soccer Dummy Wall
Inflatable Soccer Dummy Wall-1
Union Max Fitness specializes in sports training products including the highest quality Inflatable Soccer Dummy Wall. If you need this product, please feel free to contact us.
Description of Inflatable Soccer Dummy Wall
Theinflatablesoccerdummywall is a prop used for football training or competition, usually made of inflatable material, which can be shaped like a wall after being formed. Inflatablesoccerdummywall in football training or competitions can simulate the actual scene in the competition and improve the technical abilities of players such as dribbling, passing and shooting. Generally, there are different heights, widths and thicknesses, which can be selected according to the needs of training or competition. Easy to use, can be inflated and deflated at any time, easy to store and carry. Therefore, in football, the football inflatable wall is a very practical training tool.
Product Features of Inflatable Soccer Dummy Wall
1. Intimate size and appearance design, suitable size, double-sided handle design, reduce friction during movement and improve service life.
2. The characters of football players make the whole inflatable human wall three-dimensional and beautiful.
3. The upper part is a tight air hole, which is safe and convenient, and the lower part is a counterweight hole, which can be filled with water and sand; it is equipped with an inflatable cylinder to meet the needs of different situations.
4. Thickened bottom design, durable and leak-proof.
Specifications of

Inflatable Soccer Dummy Wall
| | |
| --- | --- |
| Product Name | Inflatable Soccer Dummy Wall |
| Origin | China |
| Certifications | ISO 9001 |
| Brand | Union Max |
| MOQ | 50 pieces |
| Price | $15.47-25.79/piece |
| Packing | Carton |
| Material | PVC |
| Size | 160cm/175cm/180cm/205cm |
| Weight | 1.7-2.15kg |
| Color | Red/Yellow/White |
| Usage | Physical Training |