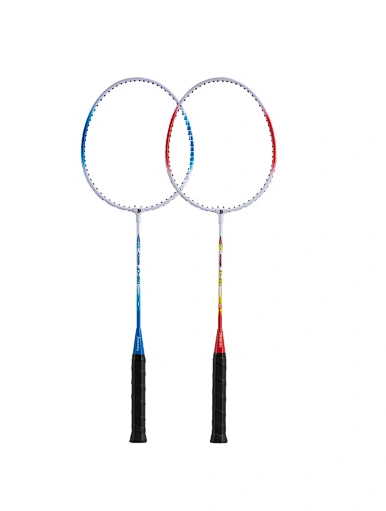 Iron Alloy Badminton Racket
Iron Alloy Badminton Racket-1
Union Max Fitness specializes in sports training products including the highest quality Iron Alloy Badminton Racket. If you need this product, please feel free to contact us.
Description of

Iron Alloy Badminton Racket
Iron alloy badminton racket is a badminton racket made of iron and other metals. The frame of the racket is usually made of iron alloy, which is strong and durable, while also providing good stability and control. They generally have a smaller head size, so they have better control and maneuverability on the court. A good choice for players looking for a durable and reliable racquet that provides good control and maneuverability on the court.
Product Features of

Iron Alloy Badminton Racket
1. T-shaped racket head, the racket feels good, the ball is light and tough, ensures the strength of the badminton racket, and is not easy to bend.
2. Rigid center shaft, the power is concentrated at the moment of hitting the ball and does not disperse; the low wind resistance cone cover reduces air resistance and better controllability.
3. Selected high-quality paulownia wood, matched with high-quality PVC handle leather, provides a good grip experience.
4. Fluid frame, smooth swing; large sweet spot, nylon feather string is more wear-resistant, and it is easier to catch the ball.
Specifications of

Iron Alloy Badminton Racket
| | |
| --- | --- |
| Product Name | Iron Alloy Badminton Racket |
| Origin | China |
| Certifications | ISO 9001 |
| Brand | Union Max |
| MOQ | 200 pairs |
| Price | $2.64-9.29/pair |
| Packing | Carton |
| Material | Iron Alloy+Paulownia+PVC |
| Length | 675mm |
| Color | Black Red/Black White/Black Blue |
| Weight | 110g |
| Usage | Physical Training |