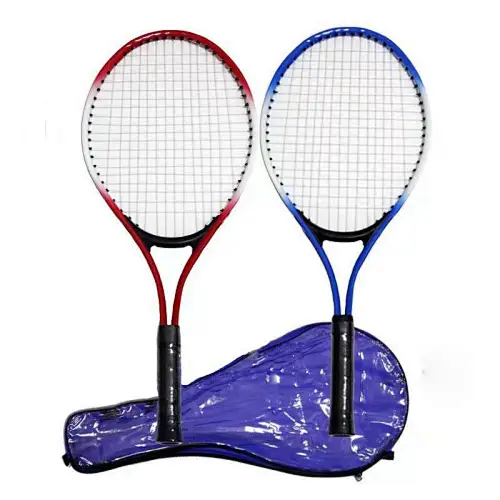 Iron Alloy Tennis Racket
Iron Alloy Tennis Racket-1
Union Max Fitness specializes in sports training products including the highest quality Iron Alloy Tennis Racket. If you need this product, please feel free to contact us.
Description of Iron Alloy Tennis Racket
Iron alloy tennis racket is a tennis racket made of hard iron alloy material, which is relatively heavy, which helps to improve the stability and hitting power of the racket. The frame of this tennis racquet is usually made of iron alloy material, which is more durable than other tennis racquets and can withstand greater impact force. At the same time, its weight and stability also help players to better control the racket during fast movements and long games, and it also helps with their power.
Product Features of Iron Alloy Tennis Racket
1. The sweet spot of the racquet surface is expanded, making it easier to hit the ball, increasing the effective area of the bed line, and expanding the defensive area.
2. Ergonomic design, strengthen the triangular area, increase the force strength of the racket frame, strengthen the smashing force, and not easy to break.
3. Non-slip shock-absorbing handle, comfortable to hold.
4. The wire protection groove prevents friction and disconnection, effectively protects the current shooting, and reduces the friction between the shooting wire and the outside world.
5. Mechanically optimized racket frame, high degree of fit between wire and frame, and good torsion resistance when hitting the ball.
Specifications of Iron Alloy Tennis Racket
| | |
| --- | --- |
| Product Name | Iron Alloy Tennis Racket |
| Origin | China |
| Certifications | ISO 9001 |
| Brand | Union Max |
| MOQ | 200 pairs |
| Price | $3.51-6.19/pair |
| Packing | Carton |
| Material | Iron Alloy |
| Size | 52*22cm/61.5*22cm |
| Color | Red/Blue |
| Usage | Physical Training |