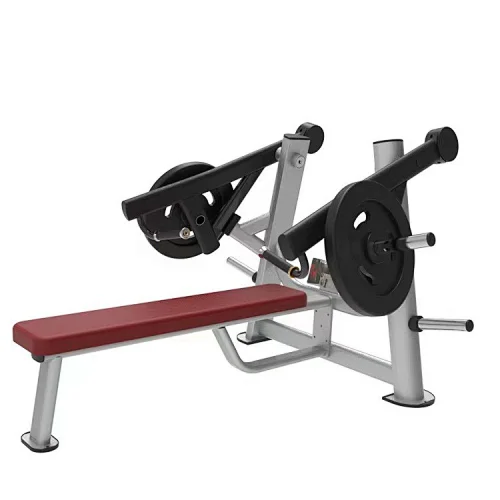 Isolateral Flat Bench Press
Isolateral Flat Bench Press-1
If you're in need of an Isolateral Flat Bench Press, look no further than Union Max Fitness.
Description of Isolateral Flat Bench Press
The isolateral flat bench press is mainly to exercise the chest muscles. For exercisers, fixed equipment exercises are the most effective way to safely and effectively improve physical fitness and muscle feeling. This bench press chest trainer is made of professional commercial-grade materials, with a thick and widened main frame structure, a unique paint process, and durability and ability to withstand huge pressure; the counterweight can be freely adjusted according to your requirements. Give you commercial quality at the price of home use.
Product Features of Isolateral Flat Bench Press
1. The pipe is thick and thick, safe and stable, efficient and durable.
2. The counterweights on both sides can be adjusted separately, and the hanging piece type counterweight can be easily adjusted.
3. Real material, leather seat, waterproof and sweatproof, wear-resistant and durable, safe and comfortable.
4. The split-type boom is equipped with a non-slip grip for more comfortable and safe movement.
5. The bottom non-slip bottom pad makes fitness more secure.
Specifications of Isolateral Flat Bench Press
| | |
| --- | --- |
| Product Name | Isolateral Flat Bench Press |
| Origin | China |
| Certifications | ISO 9001 |
| Brand | Union Max |
| MOQ | 1 piece |
| Price | $628.38-799.81/piece |
| Packing | Cartons |
| Material | Steel |
| Size | 1750*1650*1150mm |
| Color | Grey and Red |
| G.W | 130kg |
| Applicable | Home, Office, Gym |
| Usage | Fitness |