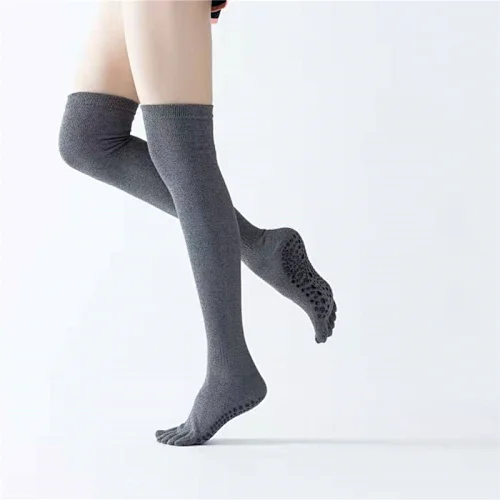 Knee-High Yoga Sock
Union Max Fitness specializes in the manufacture of Yoga and Pilates products including the highest-quality Knee-High Yoga Socks. If you need this product, please feel free to contact us.
Description of Yoga Sock
Knee-high Yoga Sock are cotton socks. The long tube design can protect your skin. Cotton socks are water absorption, and their durability is greatly improved. The feet provide cushioning shock absorption. These Yoga Sock are endowed with dot-shaped plastic anti-slip particles on the back, which can not only effectively prevent yoga practitioners from slipping feet when doing yoga exercises, but also effectively protect the safety of yoga practitioners. It is easy to grasp the true meaning of some yoga movements and increase the effect and sense of gain from practicing yoga. Sometimes feet sweat during practice, which makes the floor or public yoga mat very unsanitary.
Yoga Sock can not only effectively maintain one's own hygiene, but also maintain public health. They are auxiliary products for practicing yoga.
Product Features of Yoga Sock
1. Non-slip grip, the stylish textured spots on the bottom run through the entire bottom of the sock to help you stay stable on slippery floors or carpets, improving balance and stability.
2. The high elastic bandage prevents the socks from falling off and slipping while doing yoga or Pilates. Avoid injuries and better control your body's movements.
3. Keeping clean and dry increases breathability, reduces sweat and odor, has a sweat-absorbing effect, is more comfortable, and keeps feet clean and free from bacterial contact.
4. The size is suitable for most women and also very suitable for pregnant women. You can wear them in the room instead of slippers. They are easy to change and easy to clean.
Specifications of Yoga Sock
| | |
| --- | --- |
| Product Name | Yoga Sock |
| Features | Comfortable, soft, absorbent, non-slip |
| Origin | China |
| Certifications | ISO 9001 |
| MOQ | 1 pair |
| Brand | Union Max |
| Net weight | 120g |
| Price | $2.38/piece |
| Color | Black, dark grey, striped light grey, Wine red, striped navy blue, striped black |
| Application | Indoor and outdoor exercise |
| Material | Cotton+PVC |
| Usage | Yoga exercise and meditation |
| Size(length*width*height) | free size |
| Custom Size & Logo & shape | Please contact us individually for customization |