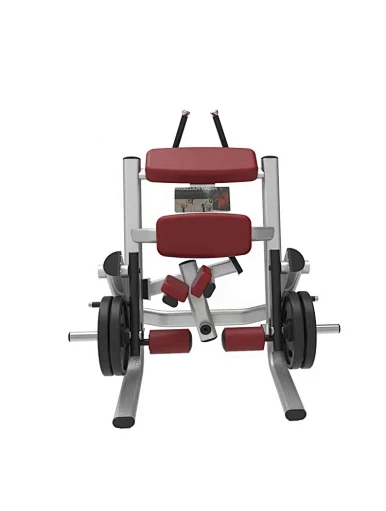 Kneeling Leg Curl
We are a supplier of Kneeling Leg Curl and would be happy to assist you with your needs. If you are in need of this type of equipment, please feel free to contact us for more information.
Description of Kneeling Leg Curl
The Kneeling Leg Curl Trainer is used in a typical prone position and is a gym professional strength machine for training the back of the legs, hamstrings, and gastrocnemius muscles. Ergonomically designed for efficient workouts. The elbows have handles and padded areas for maximum user comfort during training. The entire body, corresponding brackets, and connecting accessories are made of high-performance materials, giving each machine a high-strength load-bearing capacity. The freely adjustable counterweight design makes it more natural and comfortable for athletes to use. The maintenance-free design brings great convenience to the athlete, can be applied in different scenarios, and occupies a small area.
Product Features of Kneeling Leg Curl
1. The pipe is thickened, stable, and safe; the structure is more stable, safe and stable, wear-resistant, and durable. Using the automatic pipe bending machine, the pipe bend is very smooth and beautiful.
2. The hanging piece type counterweight can be configured on demand, easily adjustable, and maintenance-free.
3. The grouped boom is equipped with a soft foam tube, and the booms on both sides can be used in groups, which are flexible and comfortable.
4. Made of high-quality wear-resistant materials, high-quality PU leather cushions, waterproof and sweat-proof, comfortable and breathable, durable and solid; with non-slip grips, it is more secure and reliable.
5. Precision welding and grinding, repeated painting, corrosion resistance, anti-shedding, and long service life.
Specifications of Kneeling Leg Curl
| | |
| --- | --- |
| Product Name | Kneeling Leg Curl |
| Origin | China |
| Certifications | ISO 9001 |
| Brand | Union Max |
| MOQ | 1 piece |
| Packing | Cartons |
| Material | Steel |
| Size | 1240*1360*1400mm |
| Color | Black |
| G.W | 142kg |
| Applicable | Home, Office, Gym |
| Usage | Fitness |