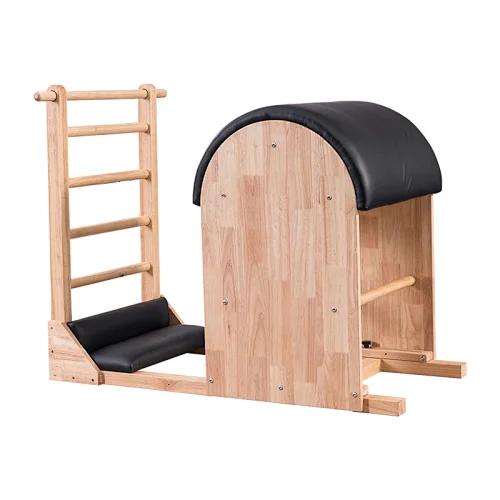 Ladder Barrel For Pilates
Ladder Barrel For Pilates-1
Union Max Fitness specializes in the manufacture of Yoga and Pilates products including the highest quality Ladder Barrel For Pilates. If you need this product, please feel free to contact us.
Description of Ladder Barrel
Simply put, the Ladder Barrel is composed of a curved barrel and a log ladder, and the bottom is connected to an adjustable mobile base to meet the adjustment needs of different torso sizes and leg lengths. This product has two materials: white maple and rubber wood. Rubber wood is a cost-effective style and durable. If you have higher demands and desires for quality and experience, we recommend the white maple wood style.
Because of its curved shape, the Ladder Barrelis often used to stretch the spine. Standing, stretching, hanging, climbing and other actions can all be performed on the ladder barrel, and its unique height and design can support a considerable range of motion. It can provide many exercises in the prone position or lying on the side, which has a very good effect on strengthening the back extensor muscles, and can also perform flexibility and core training well.
You'll love our system for adjusting the distance between the ladder rungs and barrels: quick and easy movement while standing. Simply depress the foot pedal, slide it to the desired position, and release the pedal to lock it securely in place. We provide soft cushions for extra comfort while you practice.
It has a unique look, but it also has unlimited potential. In addition to providing active and passive back extensions for practitioners of all levels, it can also perform special hip and arm exercises, full-body exercises, and stretching exercises. wait. The perfect combination of softness and rigidity. The wonderful shape and healthy body can make you have the uniqueness that I believe you will love her at the same time. At the same time, we also give you a ladder bucket pedal and body stick to help you train better!
Specifications of Ladder Barrel
Product Name

Ladder Barrel

Origin

China

Certifications

ISO 9001

MOQ

1 piece

Brand

Union Max

Price

$161.9-247.62/piece

Color

Black/white/gray

Application

Indoor and outdoor exercise

Material

White maple/Rubberwood

Usage

Pilates exercise

N.W.

68KG

Product size

White maple:4500*3800*9600mm

Rubber wood: 1400*640*980mm

Packaging size

White maple: 1150*720*1100mm

Rubber wood: 1130*700*1020mm

Custom Size & Logo & shape

Please contact us individually for customization