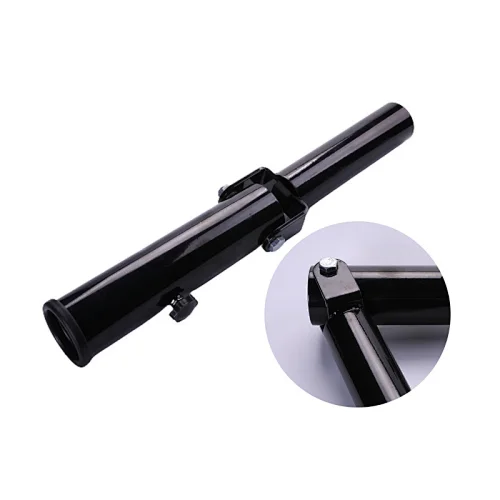 Landmine Attachment
Union Max Fitness specialize in strength training product accessories, including Landmine Attachment of the highest quality. If you require this product, please do not hesitate to reach out to us.
Description of Landmine Attachment
The 50mm Barbell Support Frame has a full 360 degree rotation and up and down rotation range, so it provides you with a multi-directional exercise that affects all the major muscles in your back, shoulders and the pulling muscles of your arms.
Product Features of Landmine Attachment
1. The total length of this barbell support frame is 47cm, the inner diameter of the thick tube part connected to the barbell bar is 5.5cm, and the outer diameter of the thin tube part connected to the barbell plate is 5cm.
2. Made of high quality cast iron with a glossy black finish, this product is durable.
3. The nozzle part has a rubber-encapsulated design, which is comfortable to touch and prevents scratching the bar, and there are adjustable angle screws at the corners for easy use.
4. The compact and versatile design provides you with the best fitness space, ensuring flexibility for different workouts, ideal for home workouts and gym workouts.
5. Great for building stronger triceps with a variety of compound lifts, assisting the muscles around the elbows, wrists, back and shoulders.
6. You can buy barbell supports individually or as a set with our barbells.
7. Carton packaging is provided free of charge, and wooden box packaging requires a certain packaging fee.
Specifications of Landmine Attachment
| | |
| --- | --- |
| Product Name | Landmine Attachment |
| Origin | China |
| Certifications | ISO 9001 |
| MOQ | 100 pieces |
| Price | $9.55-15.75/piece |
| Packing | Carton or wooden box |
| Application | Gym and your home |
| Material | Cast Iron |
| N.W | 1.3kg |
| Length | 47cm |
| Thick Tube Part Inner Diameter | 5.5cm |
| Thin Tube Part Outside Diameter | 5cm |
| Tube thickness | 2mm |
| Color | Black |
| Sales Model | Sold separately |