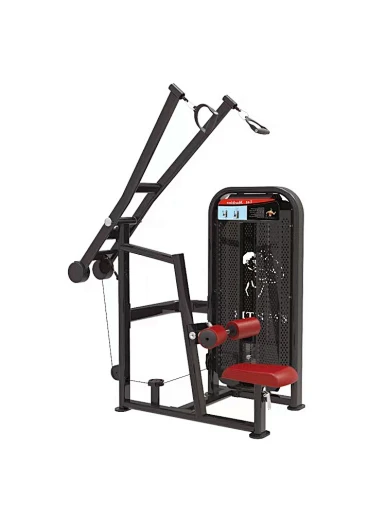 Lat Pull Down Machine
We are a supplier of Lat Pull Down Machines and would be happy to assist you with your needs. If you are in need of this type of equipment, please feel free to contact us for more information.
Description of Lat Pull Down Machine
The Reverse Pull-Up Trainer increases strength throughout the back, biceps, and forearms. The backhand grip focuses more on the biceps and forearms. This exercise can also improve the stability of the lower back, effectively exercise the chest muscles, and increase the coordination of the arms. By adjusting the seat, users of various body types can be satisfied.
Product Features of Lat Pull Down Machine
1. The thick and thick rectangular pipe is wear-resistant and durable, safe and stable, which makes the product more stable in its stability.
2. Made of high-quality PU leather cushion, the surface is soft and comfortable, and the interior is breathable, waterproof, sweat-proof, wear-resistant, durable, comfortable, and breathable.
3. The comfortable foam roller reduces pain during exercise and makes the movement more comfortable.
4. The counterweight is made of cold-rolled steel, which is strong and durable; the blade-type counterweight is designed for easy adjustment and simple operation. It can be adjusted according to your own needs to achieve efficient movement.
5. Using non-slip grips, movement is safer; high-quality pulley sets make your move smoother.
6. The bottom is equipped with a special training non-slip foot pad, which increases the force-bearing area, which can effectively stabilize the equipment and ensure the safety of training without hurting the floor.
Specifications of Lat Pull Down Machine
| | |
| --- | --- |
| Product Name | Lat Pull Down Machine |
| Origin | China |
| Certifications | ISO 9001 |
| Brand | Union Max |
| MOQ | 1 piece |
| Packing | Cartons |
| Material | Steel |
| Size | 1520*1670*1780mm |
| Color | Black |
| G.W | 241kg |
| Applicable | Home, Office, Gym |
| Usage | Fitness |