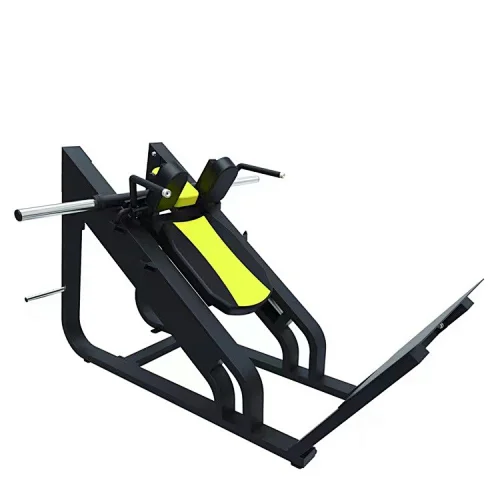 Leg Press & Hack Squat Machine
Leg Press & Hack Squat Machine-1
Union Max Fitness is able to offer top-quality Leg Press & Hack Squat Machine. For those interested, please feel free to contact us for further details.
Description of Leg Press & Hack Squat Machine
The hack squat is mainly a kind of sports equipment for exercising the leg muscles. The shape design and movement trajectory strictly follow the dynamic principle and the principle of human exercise physiology, which is in line with the strength required for human muscle exercise; the thickened and thickened tube design achieves It meets the commercial-grade standard; the molded seat cushion is luxurious and high-grade, beautiful, comfortable and durable; the weight adjustment of the hanging piece can make the application scene and the user group-wide.
Product Features of Leg Press & Hack Squat Machine
1. Thickened and thickened pipes, commercial-grade national standard pipes, with a thickness of 3mm, ensure the structural straightness of the frame, highlighting the heaviness and security of the product.
2. The surface is made of high-quality leather, and the interior is filled with foam. The cushion is elastic and high-density foam, which is thicker and more comfortable, waterproof and sweat-proof, wear-resistant, and durable.
3. The hanging piece type counterweight can be freely counterweighted according to your own needs, which is convenient and fast.
4. Increase the non-slip pedals to give you more safety protection.
5. The advanced seamless welding process ensures a stable connection between the steel pipes.
6. Antistatic spray paint for machine surfaces and layers. It's durable enough to resist scratches, peels, and bumps, making the machine easier to clean with just one wipe.
Specifications of Leg Press & Hack Squat Machine
| | |
| --- | --- |
| Product Name | Leg Press & Hack Squat Machine |
| Origin | China |
| Certifications | ISO 9001 |
| Brand | Union Max |
| MOQ | 1 piece |
| Price | $761.71-933.14/piece |
| Packing | Cartons |
| Material | Steel |
| Size | 2230*1630*1270mm |
| Color | Black |
| G.W | 172kg |
| Applicable | Home, Office, Gym |
| Usage | Fitness |