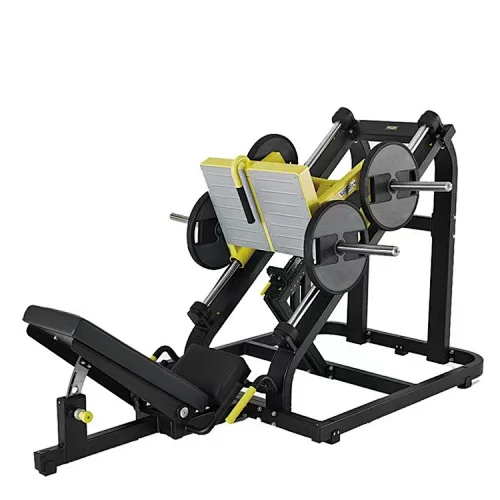 Leg Press Machine
Union Max Fitness is a professional manufacturer of Leg Press Machine. If you have any need for our products, please don't hesitate to contact us.
Description of Leg Press Machine
The inverted pedal machine mainly exercises our quadriceps, which can effectively strengthen the muscles on the front side of our legs. It is a basic leg exercise action auxiliary machine. We select materials for this pedaling machine, check layer by layer, and give you commercial-grade use quality at home prices, thick and thick pipes, hollow and non-slip pedal design, strict details, and exquisite materials, giving you the ultimate Safety protection; maintenance-free, long service life.
Product Features of Leg Press Machine
1. Thick and thick pipes are wear-resistant and durable, safe and stable; the classic spraying has no formaldehyde, and the sports environment is more healthy and environmentally friendly.
2. High-quality PU leather seat cushion, comfortable and breathable, waterproof and sweat-proof, wear-resistant and durable, with adjustable angle.
3. Non-slip grip, non-slip safety, considerately protect your safety; stainless steel plate hollow anti-slip design, the movement process is safer and more reliable.
4. The hanging piece counterweight is simple and convenient to operate and can be adjusted according to your own needs.
5. Increase the anti-skid pedal, the anti-skid is more secure, giving you safety protection.
6. Multi-point rubber support, safe and stable, not easy to shake; anti-skid bottom pad design, safety protection, reduce friction and safer.
Specifications of Leg Press Machine
| | |
| --- | --- |
| Product Name | Leg Press Machine |
| Origin | China |
| Certifications | ISO 9001 |
| Brand | Union Max |
| MOQ | 1 piece |
| Packing | Cartons |
| Material | Steel |
| Size | 2700*1570*1500mm |
| Color | Black |
| G.W | 340kg |
| Applicable | Home, Office, Gym |
| Usage | Fitness |