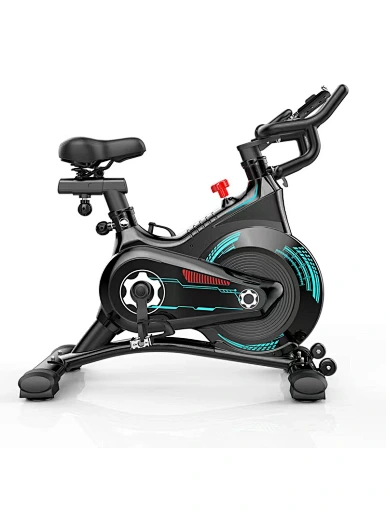 Magnetic Flywheel Spin Bike
Magnetic Flywheel Spin Bike-1
If you are looking for a Magnetic Flywheel Spin Bike, then contact Union Max for your supplier needs.
Description of Magnetic Flywheel Spin Bike
Spin bikes are similar to regular bicycles, featuring handlebars, seats, pedals, and wheels. However, its structure can be adjusted to provide increased comfort for the rider. This type of indoor bike meets professional-grade standards for safety and efficiency, allowing for the exercise of all muscle groups. It also features a magnetic control resistance system, belt drive mode for a quieter and more secure ride, along with multiple riding positions for people of different sizes.
Product Features of Magnetic Flywheel Spin Bike
1. The large stainless steel flywheel provides an immersive riding experience with a smooth and stable rotation, adding fun to the ride. The built-in flywheel and all-around protection make it more secure and quieter.
2. The overall design of the body is simple and smooth, with a fully-enclosed shell to ensure the safety of pets and children.
3. The adjustable resistance allows you to stop anytime, with different gears to satisfy your excitement and safety.
4. Magnetic control resistance and belt drive system offer no impact on your feet for a safe and quiet ride.
5. The newly upgraded frosted anti-skid plastic-dipped handrail is more comfortable than ordinary sponges, with great sweat absorption and slip resistance.
6. The seat cushion is made from a highly elastic material for a soft and comfortable feel.
7. The arch bridge design of the bottom support frame is highly durable and load-bearing, giving the body more stability. Suction cups are also added for a firm grip, which does not damage the floor.
8. Aluminum alloy anti-skid pedals are used to prevent any slipping of the feet during the ride for safety.
Specifications of Magnetic Flywheel Spin Bike
Product Name

Magnetic Flywheel Spin Bike

Origin

China

Certifications

ISO 9001

Brand

Union Max

MOQ

1 set

Price

$133.14-138.86/set

Packing

Cartons

Material

Aluminum alloy

G.W

36kg

Color

Black and Blue

L

oad

B

earing

150kg

Flywheel Weight

8kg

Size

1100*250*865mm

Resistance Method

Magnetron

Transfer Method

Belt

Applicable

Home, Office, Gym