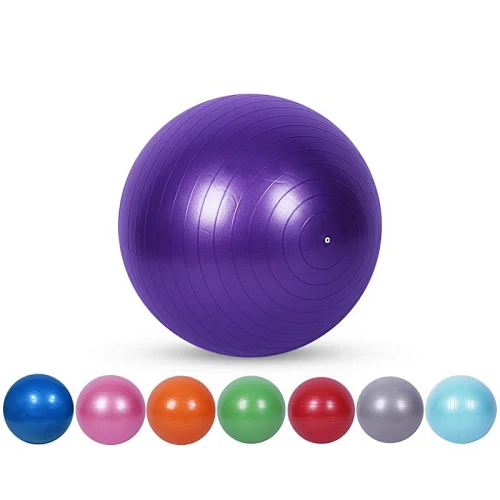 Matte Surface Pilates Yoga Ball
Matte Surface Pilates Yoga Ball-1
Union Max Fitness specializes in the manufacture of Yoga and Pilates products including the highest quality Matte Surface Pilates Yoga Ball. If you need this product, please feel free to contact us.
Description of Matte Surface Pilates Yoga Ball
Pilates Yoga Ball can train the chest, abdomen, back, buttocks, legs, and other muscle groups, and these muscle groups play an important role in maintaining body balance, improving body posture, and preventing sports injuries. Yoga ball exercise is suitable for all people to exercise, including those who need rehabilitation treatment. It makes exercisers safer when exercising, avoids strong impact on joints, and avoids sports injuries.
Pilates Yoga Ball can correct your sitting posture. When a person sits on the ball, the body is not relaxed, and your back, hips, knees, and other parts are still making small adjustments to keep yourself balanced. The yoga ball combines elasticity and rolling to act on the whole body, thus rebounding part of the force without injury. It also includes stretching, strength, endurance, and the mechanism of yoga, does not require a special market, is easy to learn, and is more suitable for the physical exercise of various groups of people.
How much air does a yoga ball need?
Generally speaking, it is enough to fill the yoga ball to 80%, so that the yoga ball is elastic, which is convenient for us to do yoga movements of clamping and grasping. In fact, inflating a fitness ball is the same method as inflating a basketball or a bicycle tire. Use special inflatable equipment to inflate according to the size of the ball. If the air is too full, the yoga ball will become very hard, which is not conducive to the practice and maintenance of the yoga ball. Therefore, you can release part of the air to adjust the hardness of the ball. This is mainly adjusted according to the practice needs and habits of the practitioner.
Specifications of Pilates Yoga Ball
Product Name

Matte Surface Pilates Yoga Ball

Origin

China

Certifications

ISO 9001

MOQ

20 piece

Customized MOQ

1000 piece/color

Brand

Union Max Fitness

Accessories

Air pump, air plug, air pull

Net weight

55CM=700g

65CM=1000g

75CM=900g

85CM=1200g

Load bearing

200kg

Price

$1.55~5.5/piece

Color

Purple, White, Silver, Red, Pink, Blue, Green

Application

Indoor and outdoor exercise

Material

PVC

Usage

Yoga exercise and Pilates

Size(Diameter)

55CM,65CM,75CM,85CM

Packing Gauge

72*48*31CM

Custom Size & Logo & shape

Please contact us individually for customization