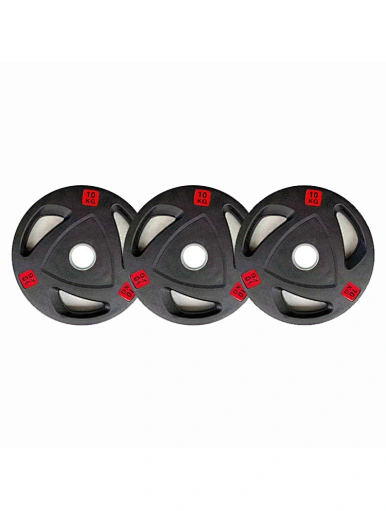 Matte Tri Grip Rubber Weight Plates
Rubberized barbell plate-3
If you are in need of high quality strength training products, look no further! We manufacture 2.5 kg to 25 kg matte tri grip rubber weight plates. Contact us today for more information.
Description of 

Matte Tri-Grip Rubber Weight Plate
The Tri-Grip Rubber Coated Weight Plate is an Olympic barbell rod compatible weight plate with a matte finish made from iron encased with a high-quality rubber coating. It comes in six specifications: 2.5kg, 5kg, 10kg, 15kg, 20kg, and 25kg. This weight plate features a stainless steel ring and high-quality rubber encasement to reduce noise and floor damage.
Specifications of 

Tri-Grip Rubber Weight Plate
Product Name

Black Matte Tri

-Grip Rubber Weight  

Plate

Origin

China

Certifications

ISO 9001

MOQ

500kg

Price

$1.25-1.75/kg

Packing

C

arton

Usage

Build muscle

Application

G

arage gym and your home

Material

Iron and Rubber Coating

Finish

Matte
Size

2.5kg

5kg

1

0

kg

15kg

2

0

kg

25kg

Color

Black

Black

Black

Black

Black

Black

Aperture

50.5mm

50.5mm

50.5mm

50.5mm

50.5mm

50.5mm

Diameter

240mm

280

mm

34

0mm

38

0mm

4

1

0mm

4

35

mm

Thickness

25mm

34

mm

40

mm

45

mm

48

mm

50

mm