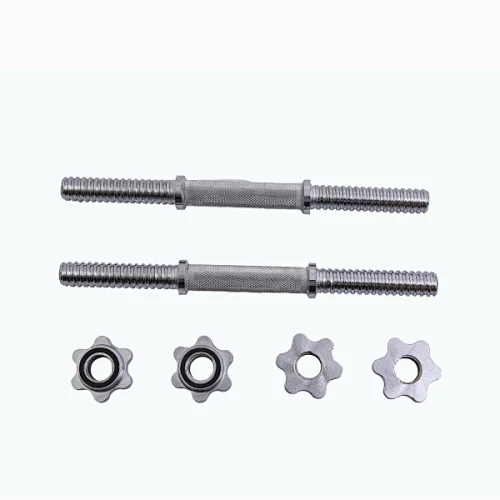 Mercerized Dumbbell Bar
Union Max Fitness specialize in dumbbell bars including Mercerized Dumbbell Bar of the highest quality. If you require this product, please do not hesitate to reach out to us.
Description of

 Mercerized Dumbbell Bar
Build muscle at home with Mercerized Dumbbell Bars, it's a must-have piece of equipment in any home weight room. Work out with the handles alone, or add some dumbbell plates (not included) to your workout to get you going. These high-quality silver dumbbell handles are a basic weightlifting accessory that adds weights as your strength grows, ideal for beginners and experienced lifters.
Product Features of

 Mercerized Dumbbell Bar
1. Mercerized Dumbbell Bar sizes are 300mm, 350mm, and 400mm.
2. This dumbbell bar is made of high-quality cast iron, and the outer plating is made of high-quality plating, which is fine in workmanship and not easy to wear.
3. Each dumbbell bar is equipped with 2 apron nuts to secure the dumbbell plates and you will be able to attach and remove the dumbbell plates quickly and easily.
4. The curved design of this dumbbell bar grip is ergonomic and comfortable to grip, and the diamond mesh design is non-slip, beautiful, and durable.
5. Sold individually or in pairs.
6. Conventional carton packaging can also choose pallet packaging.
Specifications of

 Mercerized Dumbbell Bar
| | |
| --- | --- |
| Product Name | Mercerized Dumbbell Bar |
| Origin | China |
| Certifications | ISO 9001 |
| MOQ | 30 pairs |
| Price | $8.95-15.45/pair |
| Packing | Carton |
| Usage | Loading and Unloading Dumbbell Plates |
| Application | Gym and your home |
| Material | Cast Iron |
| Finish | Electroplated |
| Size | 300mm, 350mm and 400mm |
| Color | Silver |
| Sales model | Sold individually or in pairs |