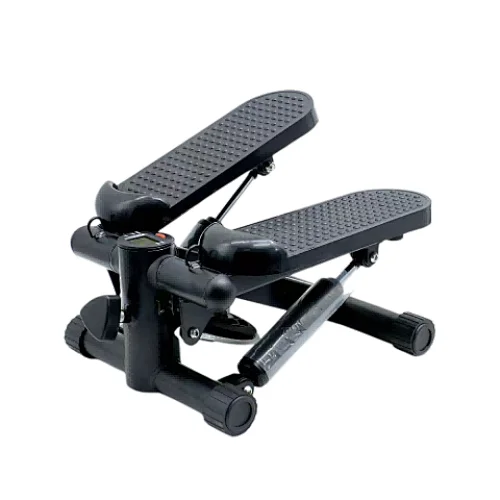 Mini Stepper
Union Max Fitness does provide Mini Stepper and Standing Lateral Raise Trainers. If you have any interest or inquiries, please feel free to contact us. We are dedicated to providing excellent service and support to our customers.
Description of Mini Stepper
This stepper adopts a wheel-rotating stepping design, which is similar to running on a traditional treadmill. Bodybuilders can maintain their exercise frequency and burn more calories through an intense workout. It has an independent pedal design, which is similar to stepping on an elliptical machine. When one foot presses down on the pedal, the other pedal rises. This stepper is also great for small spaces and is easy to store.
Product Features of Mini Stepper
1.The stepper features plastic edge guards and non-slip top feet for added safety during workouts. It's also eco-friendly and has elastic cushioning for knee protection.
2. Its golden exercise angle and ergonomic design make it suitable for long-term use and help tone and shape the body effectively.
3.Made with thickened steel pipe, this stepper is tough and can handle a high-strength load of up to 150kg.
4.Its high-strength and stable base is non-slip and anti-scratch, adding extra protection for users' safety and floors during workouts.
5.With an LED display, the stepper can track your time, steps, frequency, and movements in real-time, making it a great tool for tracking progress and staying motivated.
Specifications of Mini Stepper
| | |
| --- | --- |
| Product Name | MiniStepper  |
| Origin | China |
| Certifications | ISO 9001 |
| Brand | Union Max |
| MOQ | 10 pieces |
| Packing | Cartons |
| Material | Steel Pipe |
| TubeThickness | 1.5mm |
| Color | Black and Ash |
| LoadBearing | 150kg |
| Size | 35*30*20cm |
| Applicable | Home, Office, Gym |