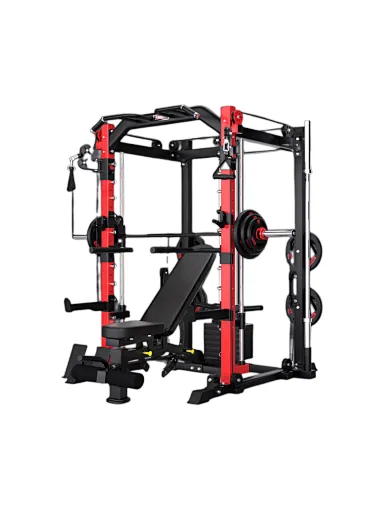 Multi Function Smith Machine
Multi Function Smith Machine-1
Union Max Fitness is a factory specialized in producing multi-function Smith machines. If you have any needs, please contact us for more information.
Description of Multi Function Smith Machine
Smith machine is one of the common equipment in the gym. Smith machine can exercise the muscles of the whole body through different movements, which is very effective. However, the fixed track limits the movement trajectory of some actions. This comprehensive training device adopts a 50*70 square tube type, the thickness of the tube wall is 1.8mm thick, and the weight of the whole machine can reach 155kg. It has a high-strength load-bearing capacity and is very suitable for use in the gym; this product does not include bench press bench, barbell plate, Olympic rod etc.
Product Features of Multi Function Smith Machine
1.The safety hook device adopts an integrated stamping system with a wall thickness of 6.2mm, which can bear heavy weight and can be used with confidence.
2.Using stainless steel rolling bearing, stainless steel rolling principle, long service life, anti-wear; using 6mm7-strand steel wire rope, high bearing capacity, not easy to wear; steel shaft, smooth sliding.
3.Adjustable bird sliding sleeve, suitable for people of different heights, easy to adjust, and a variety of training methods to choose from.
4.Bold and thick tube wall, the main frame is made of 50*70 rectangular tube, national standard material, strong and durable.
5.Very feature-rich, equivalent to a gym, can be used as commercial equipment, and can perform a variety of sports (bird clips, pull-ups, barbell squats, incline bench presses, etc.)
6.Small footprint, small stature, and many functions.
7.Pull-in beam handle, one-piece elbow design, the handle is comfortable to hold, and the action is more standard.
Specifications of Multi Function Smith Machine
| | |
| --- | --- |
| Product Name | Multi Function Smith Machine |
| Origin | China |
| Certifications | ISO 9001 |
| Brand | Union Max |
| MOQ | 1 piece |
| Price | $380.95-419.05/piece |
| Packing | Cartons |
| Material | Steel Pipe |
| G.W | 155kg |
| Color | Black and Red |
| Load Bearing | 500kg |
| Size | 1500*2200*2200mm |
| Wire Rope Thickness | 6mm*7 |
| Floor Space | 10㎡ |
| Applicable | Home, Office, Gym |
| Usage | Fitness |