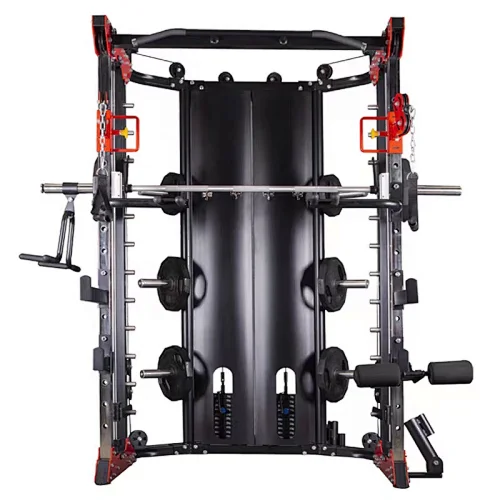 Multi-Functional Smith Machine
price
US $1215.24 / piece
Multi-Functional Smith Machine-1
Union Max Fitness is a manufacturer of Multi-Functional Smith Machines. If you require any of our products, please do not hesitate to contact us.
Description of Multi-Functional Smith Machine
The multi-functional smith machine with commercial quality can not only shape the body but also strengthen the body; this squat bench press includes a variety of functions (high pull low position, horizontal bars, etc.), which is more suitable for mastering With professional fitness knowledge of training techniques, you can do multiple sets of strength training activities. The default price in the table is the price including the counterweight, and the upgraded counterweight is about 5kg per piece.
Product Features of Multi-Functional Smith Machine
1. Adhering to the concept of safety design, using the method of ergonomic engineering, suitable for human body requirements, multiple fitness modes, and multi-directional exercise.
2. It is made of thick steel, the frame is made of 2.0mm thick pipe, and the unique structural design, safety hook, high-strength load-bearing, and upper limit of load-bearing can reach 700kg.
3. The triangular bracket structure is adopted, which is more scientific and safe; the bird adjuster can be adjusted freely in multiple gears, and the reclining board can be adjusted at multiple angles to exercise different muscle groups.
4. Aluminum alloy sliding sleeve, built-in linear optical axis, comfortable and quiet, smooth movement without stuttering.
5. With free barrel practice, kicking function; foam design, the leg muscles can be better relaxed, so as to achieve a multiplier effect.
6. A number of gravity system designs to meet any sports needs, one piece  of equipment tops a gym.
Specifications of Multi-Functional Smith Machine
| | |
| --- | --- |
| Product Name | Multi-Functional Smith Machine |
| Origin | China |
| Certifications | ISO 9001 |
| Brand | Union Max |
| MOQ | 1 piece |
| Packing | Cartons |
| Material | Steel |
| G.W | 220kg |
| Load Bearing | 700kg |
| Color | Black |
| Size | 2009*1477*2238mm |
| Applicable | Home, Office, Gym |
| Usage | Fitness |