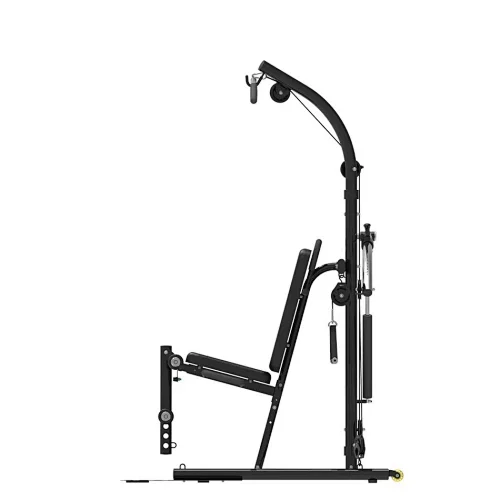 Multi-Gym Ultra Force
If you're looking for a professional manufacturer of Multi-Gym Ultra Force, then contact us at Union Max Fitness. We are the experts in the field and can provide you with the best solutions.
Description of Multi-Gym Ultra Force
The multi-gym ultra force is currently one of the most versatile and fundamental devices available. Its stand-out feature is its ability to allow users to perform a wide range of actions that are not typically possible under traditional counterweight strength equipment with a particular load. The air resistance adjustment complex of this equipment can be effectively customized and disassembled, and its user-friendly design allows for diverse exercise training options to cater to the needs of home sports enthusiasts. This versatility makes the multi-gym ultra force an excellent choice for a comprehensive home workout regimen.
Product Features of Multi-Gym Ultra Force
1. The multi-gym ultra force is made from durable materials that are both thick and long-lasting. It has a strong load-bearing capacity, ensuring a safe and intimate exercise experience, capable of accommodating various body types and weights.
2. The machine features a split resistance adjustment system that enables users to adjust the resistance independently on both sides to achieve a more personalized exercise experience for different groups of people. It is simple to operate and can quickly adapt to various fitness levels.
3. With a resistance range of 5-100kg, the multi-gym ultra force caters to different people's needs, making it a great choice for home gyms.
4. The equipment is space-saving and can quickly and easily fold up to stand upright, saving storage space without requiring extensive installation, making it an ideal choice for home use.
5. The seat of the multi-gym ultra force is effortless to disassemble, allowing users to customize the equipment according to their fitness goals and exercise preferences.
6. This machine offers various exercise options, including high-position and low-pulling, sitting, and bending legs. These options can be easily switched to cater to individuals with diverse fitness goals, making it a versatile piece of equipment.
7. The multi-gym ultra force is tailored to suit the different sports needs of all kinds of users. Its multiple resistance levels and exercise options enable people to achieve their exercise intensity goals and reach top physical fitness.
Specifications of Multi-Gym Ultra Force
| | |
| --- | --- |
| Product Name | Multi-Gym Ultra Force |
| Origin | China |
| Certifications | ISO 9001 |
| Brand | Union Max |
| MOQ | 1 piece |
| Packing | Cartons |
| Material | Steel |
| Size | 1700*1460*2180mm |
| Color | Black |
| G.W | 85kg |
| Load Bearing | 140kg |
| Resistance Range | 5-100kg |
| Applicable | Home, Office, Gym |
| Usage | Fitness |