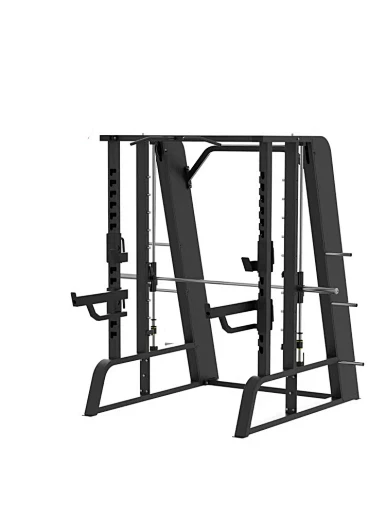 Multi Press Smith Machine
Multi Press Smith Machine-1
Union Max Fitness is a supplier of Multi Press Smith Machines. Please don't hesitate to contact us should you require our products.
Description of Multi Press Smith Machine
The Smith machine is an all-in-one training equipment that caters to various workout movements and trains multiple muscle groups. It is built with thick, professional-grade steel pipes and high-quality accessories that ensure equipment durability and stability. The machine features a professional design that enhances the overall workout experience with commercial-grade quality offered at an affordable price for home use. Customization options are available for those seeking professional equipment.
Product Features of Multi Press Smith Machine
1. Quality construction: This equipment is made of high-quality steel frame structure with seamless welding and thick pipes, which ensures excellent stability, load-bearing capacity, as well as durability and wear-resistance.
2. Rotating hanger: The machine is equipped with a professional rotating hanger that can rotate 360°. You only need to rotate the barbell, and it has a thick, non-slip grip for added safety.
3. Non-slip grip design: The machine features a non-slip grip design that helps to improve your grasp during exercise. The metal barbell bar and the bell plate rack have their weight for good control and can accommodate idle bell plates.
4. Height adjustment limit: The machine is designed with a multi-stage height adjustment limit that accommodates users of different heights. The solid electroplated limit sheet metal ensures safety and security. The damping screws protect against instrument impact, preventing any damage.
5. High-quality pulleys: The pulleys are carefully selected for their quality and safety. The anti-derailment track design and thickened wire ropes make the use of the machine safer and smoother.
6. Stable foot pad design: The machine features a stable structure foot pad design that provides durable support, stable outriggers, and non-slip capabilities. This design ensures the machine is stable, the load-bearing is stronger, and the floor remains undamaged.
Specifications of Multi Press Smith Machine
| | |
| --- | --- |
| Product Name | Multi Press Smith Machine |
| Origin | China |
| Certifications | ISO 9001 |
| Brand | Union Max |
| MOQ | 1 piece |
| Packing | Cartons |
| Material | Steel |
| Size | 2240*2240*2300mm |
| Color | Black |
| G.W | 330kg |
| Applicable | Home, Office, Gym |
| Usage | Fitness |