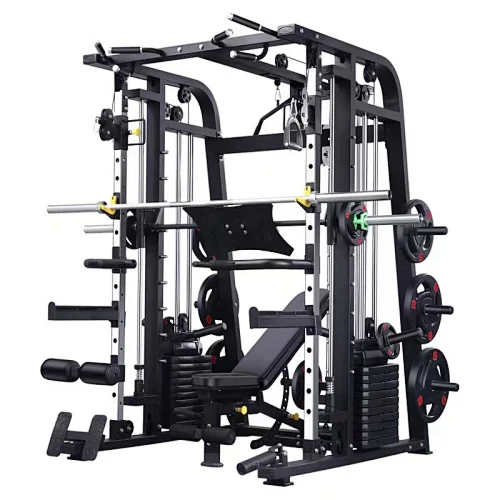 Multifunction Smith Machine
Multifunction Smith Machine-1
Union Max Fitness is a supplier of Multifunction Smith Machines. If you are interested in purchasing one, please feel free to contact us.
Description of Multifunction Smith Machine
Smith machines are one of the most common types of equipment in gyms, whether in a commercial setting or in a home gym. This Smith machine is a new model with an independent high-level pull-down, which makes the product more professional. It comes with a unilateral 63kg counterweight, which makes it more convenient to contact the bird. It integrates multiple functions and can perform a variety of sports so that every muscle can be Can get exercise, this product does not contain a bench press, barbell plate, or Olympic bar.
Product Features of Multifunction Smith Machine
1. With a compression-resistant shock-absorbing spring, the thickness is 5mm, and the integrated CNC reel is formed, which has a better shock absorption effect and longer life.
2. The bird's counterweight can be adjusted, the ordinary model comes with a 126kg counterweight, the counterweight storage design, an adjustable counterweight weight, and the large weight.
3. The stainless steel linear bearing adopts imported DC steel balls, which have a long service life, smoother use, and no jamming.
4. The independent system adopts high position and low pull and adopts a two-way independent weight system, which does not create a weight gap with the flying bird, and the product is more professional.
5. With a 9-segment safety limit device, different height limit devices meet different needs.
6. Rowing pedals with foamed feet, independent rowing pedals allow you to exert more precise force when using, and pull the legs more powerfully to pull down.
7. The main frame adopts a 50*100mm square tube, and the adjusting bird adopts a 50*50 stainless steel tube, and the thickness is suitable for commercial gym use.
Specifications of Multifunction Smith Machine
| | |
| --- | --- |
| Product Name | Multifunction Smith Machine |
| Origin | China |
| Certifications | ISO 9001 |
| Brand | Union Max |
| MOQ | 1 piece |
| Packing | Cartons |
| Material | Steel |
| G.W | 214kg |
| Color | Black |
| LoadBearing | 700kg |
| Size | 1700*1400*2300mm |
| Tube Thickness | 2.0mm |
| Applicable | Home, Office, Gym |
| Usage | Fitness |