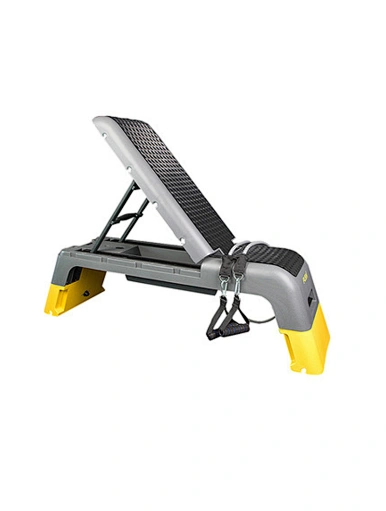 Multifunctional Aerobic Step
If you are in need of high-quality and cost-effective multifunctional aerobic step products, please do not hesitate to contact us.
Description of Multifunctional Aerobic Step
Our upgraded multifunctional fitness aerobic step is an ideal choice for those who don't have much space. It can be folded up and comes with a storage space on the platform, making it very convenient. It offers multiple levels of adjustment and multiple angles of training, allowing you to get a full body workout. In addition, it can also be used as a dumbbell stool, making it a very practical fitness equipment.
Product Feature of Multifunctional Aerobic Step
1. The surface is designed with anti-slip material and wave points for added safety and comfort.
2. Non-slip foot pads on the bottom which are environmentally friendly and quiet, not damaging the floor.
3. Adjustable track for convenience and longer service life.
4. Upgraded design with internal storage space for worry-free training.
5. Total length of 122cm, surface length of 95cm and adjustable height of 15cm or 20cm, with three adjustable folding angles of 115°, 140°, and 160°.
6. Bearing capacity of up to 350-400kg for your assurance.
Specifications of Multifunctional Aerobic Step
Product Name

Multifunctional Aerobic Step

Origin

China

Brand

Union Max

Certifications

ISO 9001

MOQ

20pcs

Price

$91.4/piece

Packing

Cartons

Material

PP

Height

15/20cm

Packing

Cartons

Length

122cm

Weight

13.6kg

Max Loading

350-400

kg

Usage

Strength Training

Logo

Custom

Application

Home, Gym

Process

Shooting Technique

Color

Black

Storage

Yes

Collapsible

Yes