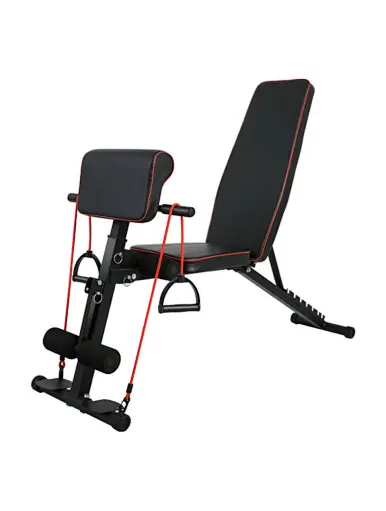 Multifunctional Dumbbell Bench
Multifunctional Dumbbell Bench-1
If you are looking for a Multifunctional Dumbbell Bench, please contact Union Max Fitness. We are the supplier for this product.
Description of Multifunctional Dumbbell Bench
This multifunctional dumbbell bench is an essential fitness aid for performing targeted fitness movements. With its 2-in-1 cushion and low clearance, this dumbbell bench is perfect for a full-body workout at home. It is an ideal choice for those looking for a convenient way to stay in shape.
Product Features of Multifunctional Dumbbell Bench
1.The triple-thickened steel pipe support is strong and sturdy, able to withstand high loads, ensuring secure and reliable protection.
2.The adjustable hook feet and backrest provide multi-angle exercise, allowing for different exercise intensity, suitable for the whole family.
3.The high-quality PU leather plus thickened and highly elastic reclining board offer great comfort and non-slip texture during exercise.
4.The bottom is equipped with a non-slip foot cover for safe exercise, also the hook feet foam enhances comfort.
5.Different accessories, such as tension rope, booster, and backrest, are available upon request.
6.This multifunctional dumbbell bench is ideal for professional training, allowing for a variety of exercises.
Specifications of Multifunctional Dumbbell Bench
| | |
| --- | --- |
| Product Name | Multifunctional Dumbbell Bench |
| Origin | China |
| Certifications | ISO 9001 |
| Brand | Union Max |
| MOQ | 10 pieces |
| Price | $28.38-32.00/piece |
| Packing | Cartons |
| Material | Steel Pipe |
| Color | Black and Red |
| Load Bearing | 150kg |
| Size | 130*35*40-102cm |
| Applicable | Home, Office, Gym |