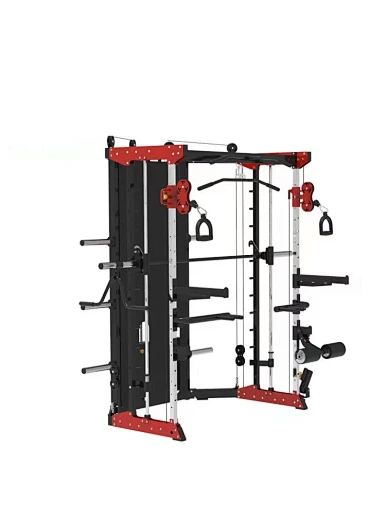 Multifunctional Smith Machine
Multifunctional Smith Machine-1
Union Max Fitness can provide premium Multifunctional Smith Machine. If you are interested in purchasing one, please do not hesitate to contact us for further information.
Description of Multifunctional Smith Machine
The double-weight comprehensive training device Smith Machine Little Bird, a single device to achieve multi-function exercise, can be used for home and commercial use; the appearance of the product is stylish and classic in black and red, and the movement trajectory is more ergonomically designed, in line with international products, more safe and durable, Whether it is the main frame or the accessories, it is the details that can be seen: the main frame of the product adopts the national standard square tube design, which is more stable; the accessories adopt high-strength materials to increase the durability. The adjustable device, suitable for different people, you can have a simple gym at home.
Product Features of Multifunctional Smith Machine
1. Thickened and thickened pipes are made of national standard steel, which is stable and durable; with multiple screws to increase safety.
2. Double counterweight design to meet your needs; insert type counterweight with high-quality pulley block, the counterweight can be adjusted according to your own needs, more efficient and practical.
3. The non-slip weightlifting bar is matched with the barbell plate to realize multiple training movements, which can be selected as needed; multiple gears are adjustable, and various training movements can be switched at will.
4. The bottom has a non-slip rubber cover to protect the trainer's safety without hurting the floor.
5. The"bow"-shaped bottom design structure increases the stability of the device and can be used with confidence.
6. The handle is made of high-strength material, which improves the durability of the product and is non-slip and durable.
7. The arc-like movement track is completely in line with the principle of human kinematics, making the movement safer, more scientific, and more comfortable.
Specifications of Multifunctional Smith Machine
| | |
| --- | --- |
| Product Name | Multifunctional Smith Machine |
| Origin | China |
| Certifications | ISO 9001 |
| Brand | Union Max |
| MOQ | 1 piece |
| Packing | Cartons |
| Material | Steel |
| Size | 1600*1930*2250mm |
| Color | Black and Red |
| G.W | 300kg |
| Applicable | Home, Office, Gym |
| Usage | Fitness |