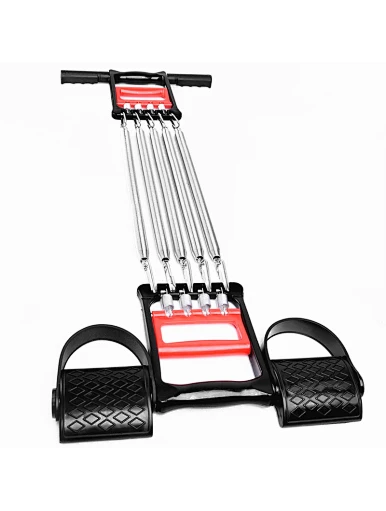 Multifunctional Spring Foot Pedal
Multifunctional Spring Foot Pedal-1
We can provide high-quality Multifunctional Spring Foot Pedal, if you need them, you can contact us.
Description of Multifunctional Spring Foot Pedal
This product is a multifunctional spring pedal tensioner, which can withstand strong traction and adapt to leg training of various strengths. It uses detachable spring steel to adjust the strength. It is easy to use in three ways. It can help you build a strong body when you want to exercise
Product Feature of Multifunctional Spring Foot Pedal
1. Small footprint, easy to use home fitness equipment.
2. High-tenacity steel wire is used, which has full tensile force and is durable and not easy to deform.
3. Three ways of use: one-handed pull, double-handed pull, chest expansion exercise, etc. It can be used to exercise the abdomen, thin the waist, and reduce abdominal fat.
4. The product uses a detachable spring, and there are 5 thickened spring tubes to ensure its long-lasting tension.
5. The ergonomic high-quality PP handle protects the hand and provides a comfortable grip.
6. Light weight, easy to transport and store, exercise anytime and anywhere, such as office, travel, camping and sports.
7. Whether in sports group training or at home, it can improve the muscle strength of legs, arms, shoulders and back.
Specifications of Multifunctional Spring Foot Pedal
Product Name

Multifunctional Spring Foot Pedal

Origin

China

Brand

Union Max

Certifications

ISO 9001

Material

PP, Steel

MOQ

20

pcs

Price

$

2.7/

Piece

Size

67*32*2.8cm

Packing

Carton

Color

R

ed

+Black

Usage

Exercise Your Abdominal Muscles

Application

Home, Gym, Outdoors