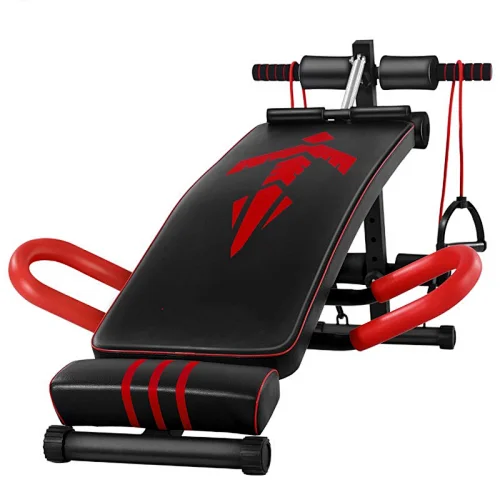 Multifunctional Supine Board
Multifunctional Supine Board-1
If you're in need of a high-quality Multifunctional Supine Board, Union Max Fitness is here to help. Simply get in touch with us to learn more about our product offerings.
Description of Multifunctional Supine Board
Prolonged computer work can have negative effects on one's health, and these effects can accumulate over time. Being inattentive and neglectful can lead to serious functional changes in the body. Fortunately, the supine board serves as more than just fitness equipment. It can also alleviate back fascia strain and lumbar muscle strain. With its multi-functional design, this single piece of equipment can be used to easily train abdominal and leg muscles simultaneously. This makes it an ideal addition for any home gym.
Product Features of Multifunctional Supine Board
1.Upgrade the triangular stable steel frame, thicken and thicken the steel pipe, safe and not shake.
2.Thickened high-quality PU leather, wear-resistant, flat, elastic, sweat-resistant, scratch-resistant, thickened and widened, more comfortable.
3.A variety of styles are available, upgraded tension rope, thickened and widened layout, making exercise more efficient, more effective, and easy to shape muscle curves.
4.The enlarged footrest foam is soft and comfortable, which can cushion the thighs well during exercise and increase the comfort.
5.The newly upgraded multi-functional supine board is a fitness equipment that can be used by the whole family. It is easy to enjoy fitness activities. A variety of sports are possible.
6.With a spring booster, it helps beginners to reduce the difficulty of getting up.
Specifications of Multifunctional Supine Board
| | |
| --- | --- |
| Product Name | Multifunctional Supine Board |
| Origin | China |
| Certifications | ISO 9001 |
| Brand | Union Max |
| MOQ | 1 piece |
| Price | $16.95-27.24/piece |
| Packing | cartons |
| Material | Steel Pipe |
| TubeThickness | 1.0mm |
| Color | Black and Red |
| LoadBearing | 150kg |
| Size | 130*30*60cm |
| N.W/G.W | 9/11kg |
| Applicable | Home, Office, Gym |