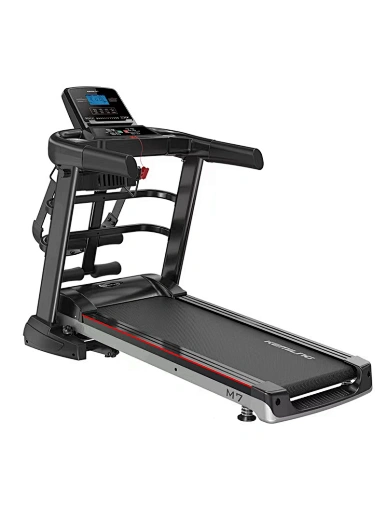 Multifunctional Treadmill
Multifunctional Treadmill-1
If you are looking for a multifunctional treadmill, contact Union Max Fitness for the best options. We are the leading supplier of multifunctional treadmills.
Description of Multifunctional Treadmill
The Multifunctional Treadmill is the simplest and most popular home fitness equipment today. It is a folding electric treadmill with dual stereo surround sound and 12 fitness modes, including single-function and multi-function options such as sit-ups, electric massage machine, and dumbbells. It is perfect for home workouts.
Product Features of Multifunctional Treadmill
1. The open sports running belt is configured to make sports more comfortable and smooth, enabling users to stride freely and safely. It is equipped with a multi-layer rebound running belt that can absorb and dissipate force, with an 80% rebound force of the foothold, and multiple shock absorption systems to prevent severe rebounds and protect the knees from injury.
2. The thickened and thickened pipes form a high-strength bearing system, which can easily carry up to 300lbs, and the smooth line design and solid construction ensure a pleasant user experience.
3. It is equipped with a 2.5HP mute energy-saving motor with high-precision machining movement and strong power, but quieter; combined with a multi-channel noise reduction system, it provides a quiet workout environment.
4. The tablet stand design allows users to enjoy entertainment while exercising and slimming unconsciously.
5. Artistic fusion of building slopes and automobile streamlines, 9 arcs and 20 slopes converge to a point, giving a great sense of speed.
6. The two-level slowdown system and folding push-pull at the card position, 90° free folding, covers an area of less than 1 square meter, making it suitable for all family members.
Specifications of Multifunctional Treadmill
Product Name

Multifunctional Treadmill

Origin

China

Certifications

ISO 9001

Brand

Union Max

MOQ

1 set

Price

$165.14-232.38/set

Packing

Cartons

Material

Steel

G.W

32.5kg

Color

Black

L

oad

B

earing

150kg

Belt size

1020*400mm

Size

1300*680*1230mm

Speed

1-12km/h

Power

2.5HP

Applicable

Running, Fitness

For People

Fitness enthusiasts, keepers, fitness trainers