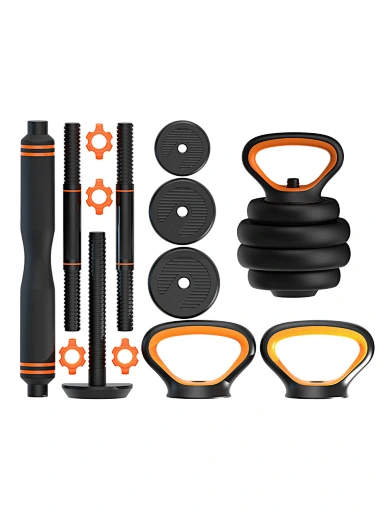 Multifunctional Weight Training Equipment Set
Dumbbell + Barbell + Kettlebell Set
Union Max Fitness specialize in manufacturing strength training products, including Multifunctional Weight Training Equipment Set of the highest quality. If you require this product, please do not hesitate to reach out to us.
Description of Multifunctional Weight Training Equipment Set
This versatile weight training equipment combines dumbbells, kettlebells, barbells, and push-up stands in 1 set of equipment that can be adjusted as needed. This product basically meets your daily fitness needs.
Product Features of Multifunctional Weight Training Equipment Set
1.This 40kg multifunctional weight training equipment includes two dumbbell bars, a barbell coupler, four safety nuts, two kettlebell grips, a kettlebell base, and 16 dumbbell plates.
2.The dumbbell plates in this set feature a PE shell filled with cement, a more economical option, and a protective PE shell to prevent abrasion.
3.The handle has a high-density rubber cover that is eco-friendly, odorless, and provides a comfortable grip to keep you from slipping off during training sessions.
4.Adjustable dumbbells, barbell connecting rods, and kettlebells will meet your different training requirements and save space. It is a set of lightweight, durable, and economical free training equipment.
5.This complete set will help you achieve your fitness goals by exercising at home, at the gym, or while traveling.
6.Sold as a set, with a minimum order of 30 sets.
7.Conventional carton packaging can also choose pallet packaging.
Specifications of Multifunctional Weight Training Equipment Set
| | |
| --- | --- |
| Product Name | Multifunctional Weight Training Equipment Set |
| Origin | China |
| Certifications | ISO 9001 |
| MOQ | 30sets |
| Price | $49.45-55.65/set |
| Packing | Carton |
| Usage | Build muscle |
| Application | Gym and your home |
| Size | 40kg(1.25kg*4+2.5kg*4+3kg*8) |
| Dumbbell Plate Material | Cement and PE Shell |
| Dumbbell Bar Length | 50.5cm |
| Barbell Connecting Rod Length | 38cm |
| Color | Black and Orange |
| | | | |
| --- | --- | --- | --- |
| Dumbbell Plate Size | 1.25kg | 2.5kg | 3kg |
| Diameter | 18cm | 22cm | 23cm |
| Thickness | 3.5cm | 4cm | 5cm |