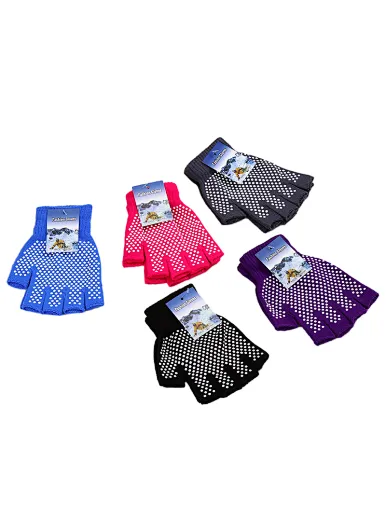 Non-slip Yoga Gloves
Union Max Fitness specializes in the manufacture of Yoga and Pilates products including the highest quality Non-slip Yoga Gloves. If you need this product, please feel free to contact us.
Description of

Yoga Glove
Yoga Gloves are lightweight and flexible gloves with gripping palms designed to grip a yoga mat or whatever surface you are practicing on. For practitioners, the role covers many aspects. It is needed in training anti-skid, which is very helpful for practitioners. If the hands are sweaty, or the body is sweating, it will avoid slipping on the yoga mat and provide stability. It is necessary to practice equipment, such as barbell exercises, to prevent slippage. It is necessary to protect the hand, reduce friction and no calluses, wear comfortably, give users a sense of security and stability, ergonomic natural bending, finger design can increase the flexibility and comfort of the hand, is a breathable design, more fitness exercise. Comfortable.
Why own a

Yoga Glove

?
1) It can provide wrist support for people with joint pain or weak wrists.
2) It helps you to hold the mat or floor firmly.
3) Even if your palms are sweaty, you can keep your hands in place to prevent slipping and injury.
4) Helps stabilize and slip during handstands.
5) Protect your hands when practicing without a yoga mat, and let the movement not be restricted to the yoga mat.
6) Helps avoid calluses on hands.
Product Features of

Yoga Glove
1. Cotton + acrylic material, soft and sweat-absorbing, with no deformation after washing.
2. The palm dispensing design is stable and non-slip, ensuring that your contact action does not move or slip.
3. The design of the half-fingered glove is light and flexible, which protects the hands without affecting the sensitivity of the fingers.
4. Unisex design, can be used by both men and women.
Specifications of

Yoga Glove
| | |
| --- | --- |
| Product Name | Yoga Glove |
| Features | Non-slip, soft, sweat-absorbent, portable, responsive, lightweight |
| Origin | China |
| Certifications | ISO 9001 |
| MOQ | 2 piece |
| Brand | Union Max |
| Net weight | 33g |
| Price | $0.65-0.8/piece |
| Color | Blue, purple, black, red, grey |
| Application | Indoor and outdoor exercise |
| Material | Cotton+Acrylic |
| Usage | Yoga exercise/Pilates exercise/Meditation |
| Size | Free size |