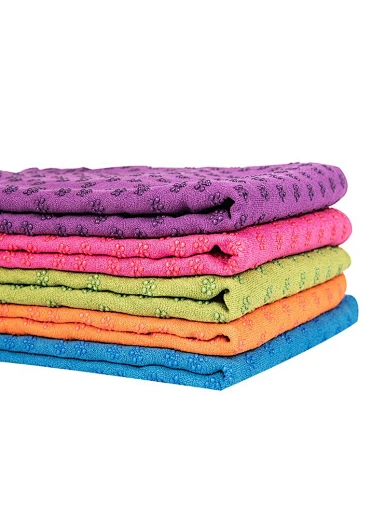 Non-Slip Yoga Towel
Union Max Fitness specializes in the manufacture of Yoga and Pilates products including the highest quality Non-Slip Yoga Towel. If you need this product, please feel free to contact us.
Description of Yoga Towel
Fitness and sports products have higher requirements for craftsmanship. This non-slip yoga auxiliary towel strengthens the seaming process, making the Yoga Towel more durable and long-lasting. Strictly selected fabrics, soft and sweat-absorbing, are derived from natural cotton mixed with polyester materials to form sweat-absorbing and breathable fabrics, making sports more focused.
When you do a yoga workout, the towel will not move because the plum-shaped anti-slip resin particles are attached to the back. It has a good anti-slip effect when you are exercising on the front, and it turns into a massage bump when used on the reverse side, providing a slightly painful contact massage. The rainbow series gives you a sense of concentration in sports, and the youthful color brings a good mood to do sports. At the same time, we present a portable tote bag for your convenience.
Direct wash and quick dry, machine washable,  don't need to worry about getting dirty. After washing, put it in a shadow place to dry to prevent exposure to the sun, and it should be in a stretched state when drying.
The Yoga Towel is placed on the yoga mat to prevent it from getting dirty, or you can use it as a yoga rug in the gym, a thermal insulation mat, a camping towel, or a beach wrap.
Specifications of Yoga Towel
| | |
| --- | --- |
| Product Name | Yoga Towel |
| Features | Comfortable, soft, non-slip, wear-resistant, large area |
| Origin | China |
| Certifications | ISO 9001 |
| MOQ | 1piece |
| Brand | Union Max |
| Net weight | 450g |
| Price | $3.81/piece |
| Color | Purple, pink, green, orange, blue |
| Shape | Rectangle |
| Application | Indoor and outdoor exercise |
| Material | 65% cotton+35% polyester |
| Usage | Yoga exercise |
| Size(length*width) | 183*63cm |
| Custom Size & Logo & shape | Please contact us individually for customization |