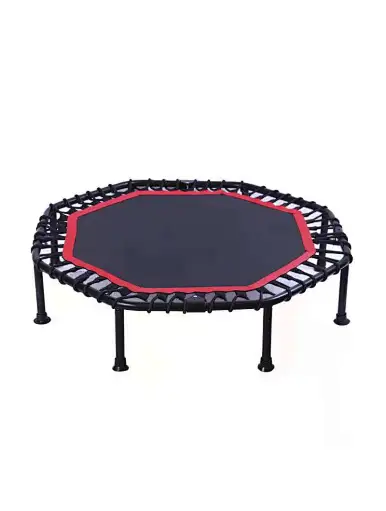 Octagon Trampoline
Union Max Fitness specializes in home workout products including the highest quality Octagon Trampoline. If you need this product, please feel free to contact us.
Description of

 

Octagon Trampoline
Our Octagon Trampoline is a safe, fun, and reliable indoor workout equipment that takes your fitness routine to the next level.
Product Feature of

Octagon Trampoline
1.Stay active and have fun with our Octagon Trampoline, made from high-quality Oxford cloth.
2.Measuring at 48 inches (frame diagonal diameter 122cm), this trampoline comes in two spot colors - blue and red.
3.The trampoline features 40 8MM elastic ropes that provide comfortable and effective bouncing, with a durable 25*1.2mm frame and 8 25*1.5mm legs for reliable and long-lasting use.
4.The octagonal design offers a stylish and safe indoor workout experience, with a load-bearing capacity of 500 catties and stable foot pads that prevent the trampoline from sliding.
5.The breathable high-bounce cloth is tough, resistant, and wear-resistant, making it easy to clean and non-deformable.
6.The trampoline package includes four shelves, one pack of eight trampoline legs, one skipping rope, one pack of 40 elastic cords, and a manual with a tool kit for quick and easy installation.
Specifications of Octagon Trampoline
| | |
| --- | --- |
| Product Name | Octagon Trampoline |
| Origin | China |
| Brand | Union Max |
| Certifications | ISO 9001 |
| Material | PP, Oxford Cloth |
| MOQ | 2pcs |
| Price | $26.67/Piece |
| Size | 48inch |
| Weight | 8kg |
| Diagonal Diameter | 122cm |
| Packing | Carton |
| Color | Black,Red |
| Usage | Leg Exercise |
| Application | Home, Gym, Outdoors |