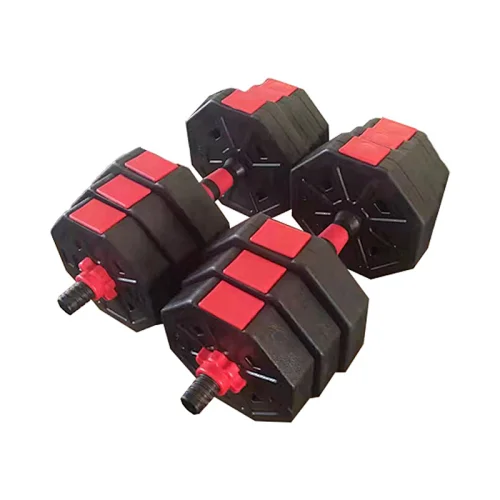 Octagonal Cement Adjustable Dumbbell Set
Adjustable Dumbbell Set-20
Union Max Fitness specialize in manufacturing strength training products, including Octagonal Cement Adjustable Dumbbell Set of the highest quality. If you require this product, please do not hesitate to reach out to us.
Description of

 PE Shell Octagonal Cement Adjustable Dumbbell Set
The dumbbell plates and safety screws in this dumbbell set allow you to adjust the weight and try out different combinations. This cement dumbbell set is perfect for a full-body workout or a separate upper and lower-body workout.
Product Features of

 PE Shell Octagonal Cement Adjustable Dumbbell Set
1. This octagonal cement dumbbell set includes 2 dumbbell bars, 4 swivel screws, 1 connector, and 12 adjustable dumbbell plates.
2. The dumbbell piece is made of high-quality cement iron sand mixture, and the surface is covered with PE material.
3. The octagonal design of the dumbbell plate can prevent rolling and prevent the floor from being scratched.
4. The non-slip handles on this dumbbell provide a comfortable grip and help prevent palm wear.
5. This dumbbell set is suitable for home, gym, health club, and more.
6. Sold as a set, with a minimum order of 30 sets.
7. Conventional carton packaging can also choose pallet packaging.
Specifications of

 PE Shell Octagonal Cement Adjustable Dumbbell Set
| | |
| --- | --- |
| Product Name | PE Shell Octagonal Cement Adjustable Dumbbell Set |
| Origin | China |
| Certifications | ISO 9001 |
| MOQ | 30sets |
| Price | $24.65-29.95/sets |
| Packing | Carton |
| Usage | Build muscle |
| Application | Gym and your home |
| Material | Cement and PE Coating |
| Size | 20kg |
| Dumbbell Plate Weight | 1.25kg*4, 1.5kg*4, 2kg*4 |
| Grip Length | 47cm |
| Color | Black and Rad |
| Sales model | Sold in sets |