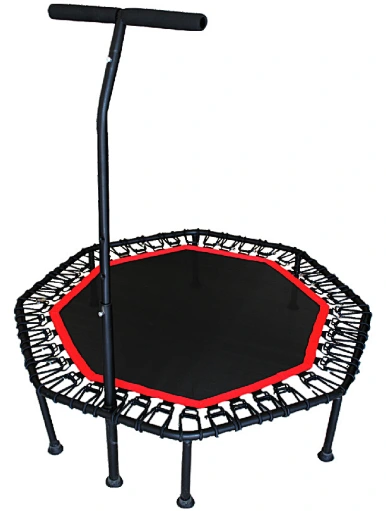 Octagonal Folding Trampoline With Armrests
Octagonal Folding Trampoline With Armrests-1
Union Max Fitness specializes in home workout products including the highest quality Octagonal Folding Trampoline With Armrests. If you need this product, please feel free to contact us.
Description of

 

Octagonal Folding Trampoline With Armrests
Our Octagonal Folding Trampoline with Armrests is perfect for anyone looking for a fun and effective indoor workout. Made of premium Oxford cloth, this trampoline is durable and reliable.
Product Feature of

Octagonal Folding Trampoline With Armrests
1.It measures 42 inches with a frame diagonal diameter of 105 cm. It is available in three different spot colors - blue, red and orange.
2.It comes with a pack of eight trampoline legs, a manual and a tool kit, easy and straightforward to install.
3.This trampoline bears 500 catties and is designed to provide a safe and stable exercise experience. The octagonal design and sturdy foot pads ensure stability and prevent any slipping or shifting during workouts.
4.The surface of the trampoline is made of breathable high-elastic cloth, which is tough, durable and wear-resistant. It is easy to clean, does not deform, and provides strong shock absorption.
5. The armrests are divided into three sections to provide extra support during exercise.
6.This trampoline is not only convenient and easy to fold, but also has a beautiful design. Get ready to jump with confidence and enjoy a great workout with our Octagonal Folding Trampoline with Handrails.
Specifications of Octagonal Folding Trampoline With Armrests
| | |
| --- | --- |
| Product Name | Octagonal Folding Trampoline With Armrests |
| Origin | China |
| Brand | Union Max |
| Certifications | ISO 9001 |
| Material | PP, Oxford Cloth |
| MOQ | 2pcs |
| Price | $24.76/Piece |
| Size | 42inch |
| Weight | 8.1kg |
| Diagonal Diameter | 105cm |
| Packing | Carton |
| Carton Size | 75*42*11cm |
| Color | Black,Red, Orange |
| Usage | Leg Exercise |
| Application | Home, Gym, Outdoors |