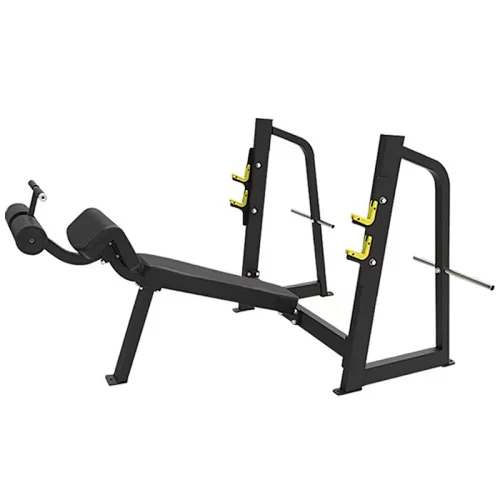 Olympic Decline Bench
Union Max Fitness is a factory that specializes in the production of Olympic Decline Benches. If you are in need of our products, please do not hesitate to contact us.
Description of Olympic Decline Bench
The Olympic decline bench is a piece of weight training equipment commonly referred to as the bench press or simply the bench. The main muscles that are targeted during this exercise are the pectoralis major and pectoralis minor, while also engaging the serratus anterior, biceps, and forearm muscles. The bench press is a compound exercise that engages multiple bones and muscles, with a focus on developing the upper limb extensors and pectoralis major muscles, making it a prescribed movement in weightlifting. The Olympic decline bench is specifically designed for performing the bench press exercise with a decline angle, making it a multifunctional piece of equipment. This exercise not only builds hand strength but also provides inversion benefits by relieving stress, relaxing the body and mind, and promoting better blood circulation. Overall, the Olympic decline bench is a valuable tool for anyone looking to strengthen and tone their upper body, and improve their overall physical fitness.
Product Features of Olympic Decline Bench
1.This Olympic decline bench features 50*100mm thick pipe and seamless connection technology of the mechanical arm, providing stability, safety, and reliability during use.
2. The main frame is thickened, the base is reinforced, and multiple bolts are strengthened and fixed, providing strong bearing capacity, stability, and durability.
3. High-quality PU leather cushions are used, which are breathable and sweat-absorbing, preventing stickiness during summertime workouts and maintaining user comfort.
4. The multi-layer electrostatic particle baking paint process ensures there is no paint peeling, making it durable and wear-resistant.
5. The hook foot foam design improves safety and comfort by preventing sagging feet during use.
6. This product also supports color customization, allowing for personalized matching, and free color selection.
Specifications of Olympic Decline Bench
| | |
| --- | --- |
| Product Name | Olympic Decline Bench |
| Origin | China |
| Certifications | ISO 9001 |
| Brand | Union Max |
| MOQ | 1 piece |
| Packing | Cartons |
| Material | Steel Pipe |
| Tube Thickness | 2.5mm |
| G.W | 120kg |
| Color | Black |
| Load Bearing | 300kg |
| Size | 2090*1700*1220mm |
| Tube Size | 50*100mm |
| Applicable | Home, Office, Gym |