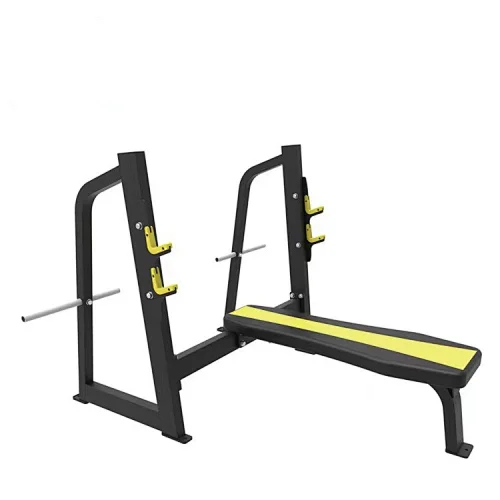 Olympic Flat Bench
If you are looking for a professional manufacturer of Olympic Flat Bench, please contact us at Union Max Fitness.
Description of Olympic Flat Bench
The bench press is a highly effective exercise for building upper body strength, with a primary focus on developing the chest, arms, and shoulder muscles. This piece of gym equipment is made from high quality materials, providing a comfortable and safe experience for the user. Its simple, yet portable design makes it an excellent addition to any gym, whether for private or public use. It is the ideal weightlifting equipment for strength training facilities, with a simple structure and easy assembly, ensuring longer stability and a perfect fit between the body and the machine.
Product Features of Olympic Flat Bench
1.Industrial-grade hard plastic protection hooks are utilized to provide high durability, excellent wear resistance, stable load-bearing capacity, and effective defense against direct collisions that could damage the barbell bar or barbell rack.
2.The bench features a high-quality PU seat cushion that is molded using a one-time foam process, creating good resilience for the user. The double-layer lock thread is exquisite and durable, ensuring sweat-wicking and breathability, providing comfort during training, and preventing the bench from sticking to the body in summer.
3.A portable storage barbell plate hanging bar has been incorporated into the design of the bench, making training sessions more convenient and efficient.
4.The bench is constructed using professional commercial-grade pipes that have been thickened to a thickness of up to 3mm. These pipes have undergone sandblasting and rust removal processes along with electrostatic spraying, offering a non-slip and wear-resistant surface that is both beautiful, atmospheric, and prevents paint from flaking.
5.The triangular stable structure of the bench ensures that training sessions remain stable and secure, maximizing performance outcomes.
6.A spare barbell plate support frame is included in the design of the bench to prevent disorderly placement of the barbell plates, making the unit more stable. The sturdy and wear-resistant barbell bar bracket is non-slip and wear-resistant, offering enhanced support and ensuring greater safety.
7.Rubber non-slip floor mats that are fixed and non-slip have been integrated into the design of the bench to prevent any damage to the floor.
Specifications of Olympic Flat Bench
| | |
| --- | --- |
| Product Name | Olympic Flat Bench |
| Origin | China |
| Certifications | ISO 9001 |
| Brand | Union Max |
| MOQ | 1 piece |
| Packing | Cartons |
| Material | Steel |
| Size | 1730*1780*1220mm |
| Color | Black |
| G.W | 82kg |
| Applicable | Home, Office, Gym |
| Usage | Fitness |