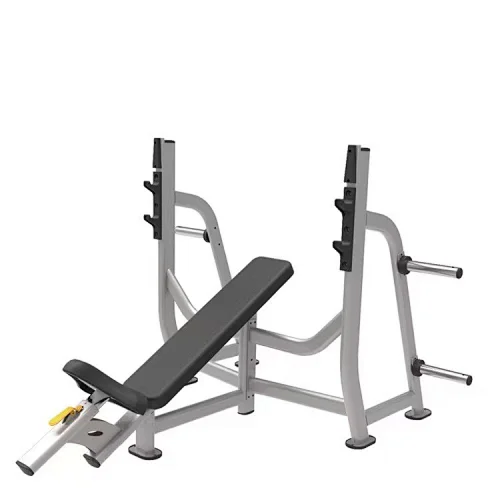 Olympic Incline Bench
Union Max Fitness is a professional manufacturer of Olympic incline benches. If you are in need of one, please don't hesitate to contact us.
Description of Olympic Incline Bench
The Incline Press Trainer is an exercise machine specifically designed to target the chest and arm muscles. It comes with a sitting-standing hanging plate that enhances its effectiveness. For safety, it is constructed from thicker pipes, reinforced support brackets, and non-slip, reinforced bases, all of which guarantee optimum security.
Product Features of Olympic Incline Bench
1.The incline press trainer pays attention to details, featuring thick and sturdy pipes that offer exceptional load-bearing capacity. It is designed for optimal efficiency and durability, providing a safe and stable workout platform.
2. Enjoy a comfortable workout experience with the incline press trainer's all-inclusive PU leather seat cushion. Its one-piece foam molding design ensures precise sewing and maximum comfort, breathability, waterproof and sweat-resistance, and durability.
3. The incline press trainer's adjustable seat allows users to customize their workout experience to their specific needs. Additionally, the anti-slip bottom pad ensures a safe and stable workout.
4. The equipment comes with carefully selected high-quality accessories, including non-slip screw fastening, barbell bracket, and universal bell plate hanging rod. It features surface anti-rust and corrosion-resistant treatment with a large load-bearing capacity, ensuring a safe and reliable workout every time.
5. The incline press trainer utilizes an advanced seamless welding process to ensure the stable connection between the steel pipes. Its exclusive high-quality baking paint process features double-layer car baking paint, making it beautiful, wear-resistant, and paint-peeling resistant.
Specifications of Olympic Incline Bench
| | |
| --- | --- |
| Product Name | Olympic Incline Bench |
| Origin | China |
| Certifications | ISO 9001 |
| Brand | Union Max |
| MOQ | 1 piece |
| Packing | Cartons |
| Material | Steel |
| Size | 1320*1950*1520mm |
| Color | Black |
| G.W | 128kg |
| Applicable | Home, Office, Gym |
| Usage | Fitness |