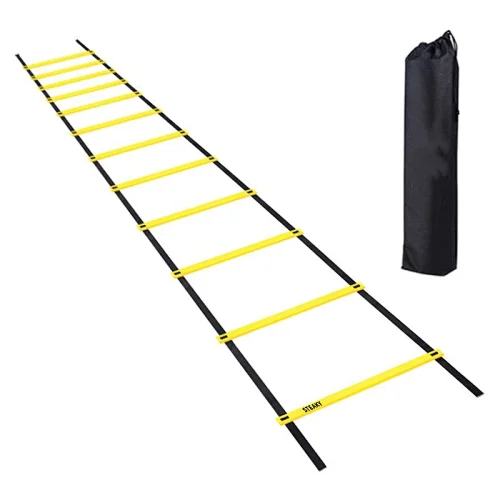 Outdoor Speed Football Training PP Agility Ladder
Union Max Fitness manufactures core exercise products including the highest quality Agility Ladder. If you need this product, please feel free to contact us.
Description of Agility Ladder
The agility training ladder is mainly used for daily flexible training of the legs such as in football, basketball, volleyball, and rugby, as well as the coordination of the body. It can also be used in kindergartens, parent-child activities, and institutional units for festival activities, etc.
Product Feature of Agility Ladder
1. Our agile ladders are made of environmentally friendly PP material, which has the characteristics of good toughness and no fading. It is non-toxic and can be used for children with confidence!
2. Free expansion and easy care, user-friendly adjustable size design, to meet the needs of different degrees of training intensity, convenient and fast.
3. High-density high-quality webbing, non-slip strong and durable, overall soft and strong, full of elasticity.
4. To be safer in training and prevent scratches, our agility ladders are specially smoothed on the surface of the bars.
5. A variety of colors to choose from green, yellow, orange, orange-red, etc.
6. A variety of sizes can be selected: 8 pieces of 4 meters, 10 pieces of 5 meters, 12 pieces of 6 meters, 13 pieces of 7 meters, 16 pieces of 8 meters, and 20 pieces of 10 meters.
7. The suit can be customized according to your requirements, with a mesh bag and packaging
Specifications of Agility Ladder
| | |
| --- | --- |
| Product Name | Agility Ladder |
| Origin | China |
| Brand | Union Max |
| Certifications | ISO 9001 |
| Material | Nylon Braided Belt+PP |
| MOQ | 2pcs |
| Price | $1-3.6/Piece |
| Size | 8/10/12/13/16/20 piece |
| Thickness | 2.0mm |
| Weight | 37g/Piece |
| Packing | Carton |
| Color | Green, Yellow, Orange, Orange Red |
| Custom | Set, Mesh Bag, Package |
| Usage | Physical coordination training |
| Application | Home,Gym, Outdoors |