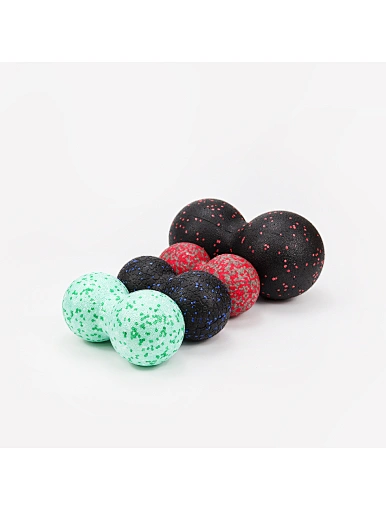 Peanut Fascia Ball & Lacrosse Massage Ball
Union Max Fitness specializes in the manufacture of Yoga and Pilates products including the highest quality Peanut Fascia Ball & lacrosse massage ball. If you need this product, please feel free to contact us.
Description Peanut Fascia Ball
This Peanut Fascia Ball is made of EPP material. The double ball is the peanut massage ball. There are two single balls connected together, and the use area is larger. Single ball weight 7-50g, double ball weight 30-110g, more convenient to carry, use anytime and anywhere.
When using it, you can also use the body to pressurize and roll back and forth to achieve the effect of massaging and relaxing tense muscles, just like giving a massage to someone, it will make the whole body comfortable. It is recommended to use the fascia relaxation ball before exercise, which will loosen the tight muscles and make the body move more easily. After exercise, use the fascia relaxation ball to press and relax, which can relieve muscle soreness after exercise. In addition, you can also Relax your tense body from everyday life.
Specifications of Peanut Fascia Ball
| | |
| --- | --- |
| Product Name | Peanut Fascia Ball |
| Origin | China |
| Certifications | ISO 9001 |
| MOQ | 20 piece |
| Brand | Union Max |
| Net weight | Double ball:30g/55g/80g/110g |
| Load bearing | 200~300kg |
| shape | Peanut |
| Price | $0.6-1.26/piece |
| Color | Red, blue, black, green |
| Application | Indoor and outdoor exercise |
| Material | EPP |
| Usage | Yoga exercise |
| Size | 8*16cm/12*24cm(diameter*length) |
| Custom Size & Logo & shape | Please contact us individually for customization |