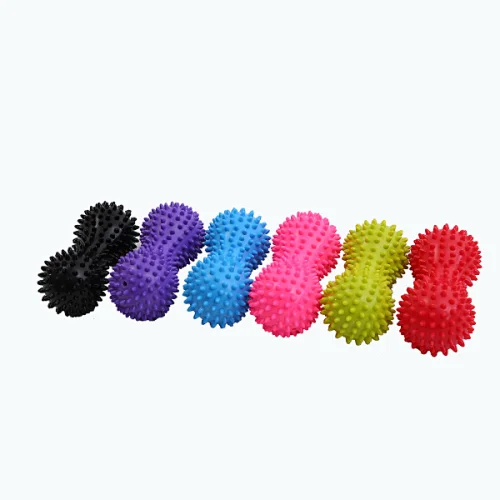 Peanut Massage Ball
Union Max Fitness specializes in manufacturing Yoga and Pilates products, including Massage Balls of the highest quality. If you require this product, please do not hesitate to reach out to us.
Description of Peanut Massage Ball
This massage ball is in the shape of a peanut, so it is called a peanut massage ball. The contact surface is wider, even massage prick points, point-to-point stimulation, and precisely massage sore muscle points.
The product is a hollow double sphere with a length of 16CM. The size of product can be held by a hand, and it can be carried and used anytime and anywhere.
Environmentally friendly hard PVC material, flexible, flexible, safe and comfortable. Long-term exercise is good for health. The tentacles on the surface of the sphere massage your skin and stimulate nerve endings, which can promote blood circulation, relax tense nerves, enhance body flexibility, and improve balance.
Specifications of Peanut Massage Ball
| | |
| --- | --- |
| Product Name | Peanut Massage Ball |
| Features | Flexible, portable, drop-resistant, pressure-resistant, comfortable, safe,  environmentally friendly |
| Origin | China |
| Certifications | ISO 9001 |
| MOQ | 20 piece |
| Brand | Union Max |
| Net weight | 85g |
| Load bearing | 200~300kg |
| shape | Peanut |
| Price | $0.44-0.58/piece |
| Colour | pink, green, purple,blue, red, black |
| Application | Indoor and outdoor exercise |
| Material | PVC |
| Usage | Yoga exercise |
| Size(length) | 13cm |
| Custom Size & Logo & shape | Please contact us individually for customization |