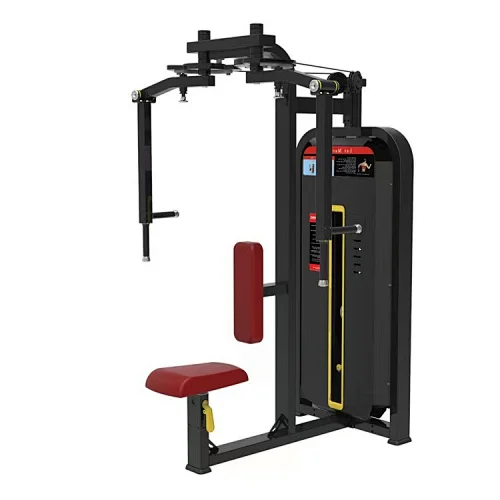 Pearl Delt/Pec Fly Machine
Pearl Delt/Pec Fly Machine-1
If you require the pearl delt/pec fly machine fitness equipment, Union Max Fitness is the manufacturing factory to contact. Please feel free to reach out to us for any inquiries regarding our products.
Description of Pearl Delt/Pec Fly Machine
The straight-arm chest trainer is a popular fitness equipment found in gyms. It is specially designed to enhance the arms, chest muscles, and biceps and deltoid muscles. This equipment is equipped with safety features, such as the free adjustment design of the counterweight, the self-service cushion design, and the ability to adjust the boom gear angles. These features improve the relevance of the equipment and make it suitable for different groups of people with varying training needs.
Product Features of Pearl Delt/Pec Fly Machine
1.Made to national standards, our square tube is thick and solid, built to last and provide a safe and stable exercising experience.
2. Our insert-type counterweight is crafted from cold-rolled steel, featuring anti-corrosion paint surface and easy adjustability to cater to your individual needs during your workout.
3. Our high-quality PU leather seat cushion is packed with soft foam, ensuring comfort and breathability. The seat post can be adjusted according to your height, and is waterproof, sweat-resistant, and wear-resistant.
4. Our non-slip grips are ergonomically designed, with separate left and right arms to enable multiple gear angle adjustments, ensuring maximal safety and efficiency during your exercise routine.
5. Our thickened steel wire rope is reinforced with a multi-strand combined design, providing exceptional bearing capacity and safety.
6. We have reinforced our instrument with stainless steel damping screws, to improve safety performance and stability during exercise.
7. With a seamless mechanical welding process, our equipment is both beautiful and durable.
Specifications of Pearl Delt/Pec Fly Machine
| | |
| --- | --- |
| Product Name | Pearl Delt/Pec Fly Machine |
| Origin | China |
| Certifications | ISO 9001 |
| Brand | Union Max |
| MOQ | 1 piece |
| Price | $628.38-799.81/piece |
| Packing | Cartons |
| Material | Steel |
| Size | 1350*1250*2030mm |
| Color | Black |
| G.W | 242kg |
| Applicable | Home, Office, Gym |
| Usage | Fitness |