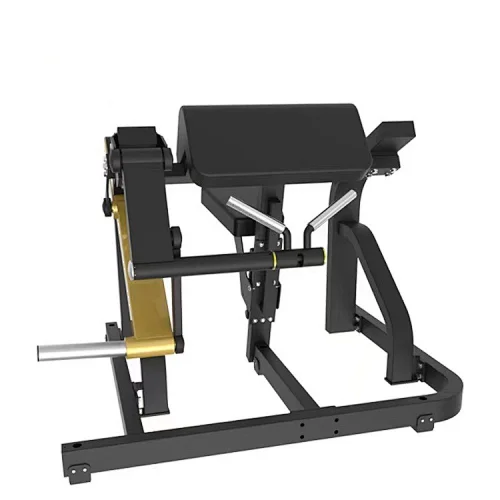 Plate Loaded Biceps Curl
Plate Loaded Biceps Curl-1
We offer Plate Loaded Biceps Curl and would be happy to assist you if you need it. Please feel free to contact us.
Description of Plate Loaded Biceps Curl
The biceps trainer belongs to the pure mechanical structure transmission, the transmission of gravity is smoother, the movement is not stuck, and the addition of ergonomic optimization makes the training more comfortable. The non-slip grip is enlarged, and the intimate design is safer; the shaft rotation ensures the direct transmission of the load weight, providing exercisers with the same degree of freedom and feeling as free weight training while achieving efficient training effects. National standard pipe design, giving you professional quality assurance.
Product Features of Plate Loaded Biceps Curl
1. The whole adopts a square structure, the force point is uniform, the national standard square tube design, thick and thick tube, wear-resistant and durable, safe and stable.
2. Made of leather material cushion, high tear strength, waterproof and sweatproof, wear-resistant and durable, comfortable and breathable.
3. Adopt damping screw design, high firmness, and long use time.
4. The comfortable grip diameter can distribute the load evenly, and the grip surface is treated with an anti-slip texture, which increases the gripping force and slip resistance; the special alloy material ensures long-lasting durability.
5. The self-adjusting weighted handle design allows exercisers to maintain most of the tension in the biceps during training while avoiding overloading the wrist and forearm.
Specifications of Plate Loaded Biceps Curl
| | |
| --- | --- |
| Product Name | Plate Loaded Biceps Curl |
| Origin | China |
| Certifications | ISO 9001 |
| Brand | Union Max |
| MOQ | 1 piece |
| Packing | Cartons |
| Material | Steel |
| Size | 1220*1380*1100mm |
| Color | Black |
| G.W | 162kg |
| Applicable | Home, Office, Gym |
| Usage | Fitness |