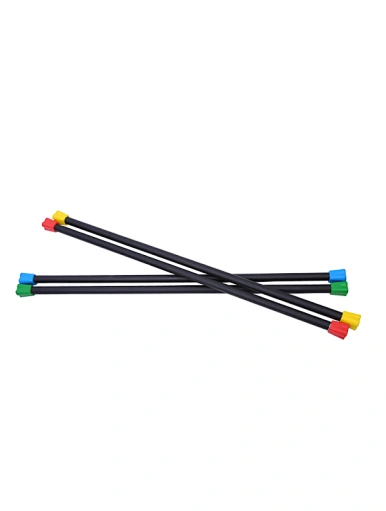 Plum-shaped Head Light Aerobic Weight Bar
Union Max Fitness specialize in barbell bars including Plum-shaped Head Light Aerobic Weight Bar of the highest quality. If you require this product, please do not hesitate to reach out to us.
Description of

 Plum-shaped Head Light Aerobic Weight Bar
This cardio bar can be used for a variety of workouts, including strength and conditioning, kickboxing and martial arts, exercise conditioning, exercises for Pilates and basic yoga, and flexibility training. The weight is evenly distributed on the cardio bar, making it ideal for core strength training, functional training, cardio training, and many other group
s
 and individual workouts.
Product Features of

 Plum-shaped Head Light Aerobic Weight Bar
1. This gymnastic stick is available in 12 sizes from 1kg to 12kg (in 1kg increments).
2. Excellent material, made of high-quality iron material, durable and fall-resistant, strong and strong.
3. With colorful PU foam sleeves on both ends, the whole body is comfortable and soft, which can be easily gripped during exercise.
4. Both ends of each gymnastic stick are weight-coded and color-coded for quick access.
5. This free training fitness machine is the perfect combination of squats, lunges, deadlifts, and more.
6. User-friendly, cost-effective and versatile, this cardio bar can be used not only for group workouts and fitness centers but also for personal training, physical therapy, and home workouts.
7. Sold individually or in pieces.
8. Paper tube and wooden box packaging, packaging needs to be charged separately, you can consult us about the packaging fee at any time.
Specifications of

 Plum-shaped Head Light Aerobic Weight Bar
| | |
| --- | --- |
| Product Name | Plum-shaped Head Light Aerobic Weight Bar |
| Origin | China |
| Certifications | ISO 9001 |
| MOQ | 100 pieces |
| Price | $17.95-26.85/piece |
| Packing | Paper Tube and Wooden Box |
| Usage | For Fitness Activities |
| Application | Gym and your home |
| Type | Plum-shaped Head |
| Material | Pu+Iron |
| Size | 1kg to 12kg (in 1kg increments) |
| Length | 1.22m |
| Diameter | 30mm |
| Color | Red, yellow, blue, green, purple |
| Sales model | Sold individually or in pieces |