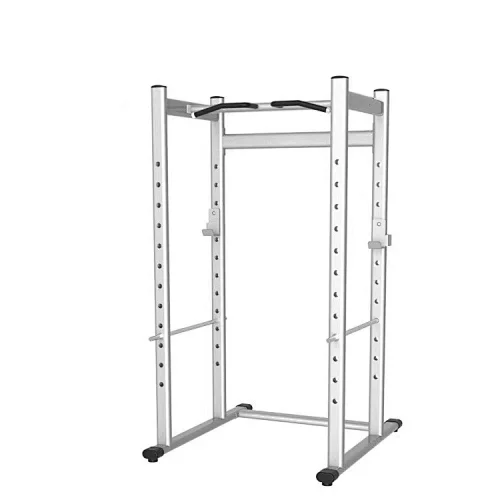 Power Rack
If you need a high-quality Power Rack, Union Max Fitness can provide you with one. Please feel free to contact us for more information.
Description of Power Rack
The quadriceps femoris is the primary muscle group targeted during squatting, with the degree of involvement of the femoral major muscle determined by the depth of the squat. Additionally, the trapezius muscles also receive a workout. This frame squat rack has an H-shaped main structure, providing a strong bearing capacity and preventing rollover. It can be adjusted to multiple gears, catering to different user groups. Moreover, the detailed accessory design enhances the product's safety performance, instilling confidence in users.
Product Features of Power Rack
1.The machine features thickened national standard steel pipes with an H-shaped reinforced base, providing a safe, stable, and durable workout experience. The enlarged rubber base and designed center of gravity prevent tipping and increase the load-bearing capacity for added safety.
2. Counterweights are easily selected based on individual needs, allowing for personalized workouts and simple operation.
3. The multi-angle pull-up horizontal bar handle offers an anti-slip design with comfortable grip positions, meeting various training requirements for enhanced professional movements.
4. The free squat feature offers multiple adjustable gears, accommodating the exercise needs of different user groups.
5. The machine features a protective bar with free squat protection, providing intimate protection during workouts. The solid round bar is chrome-plated for enhanced hardness, wear resistance, and a smooth surface to prevent scratches.
6. Anti-slip and wear-resistant foot pads are wrapped with sound insulation material, safeguarding floors from wear and tear with added protection.
Specifications of Power Rack
| | |
| --- | --- |
| Product Name | Power Rack |
| Origin | China |
| Certifications | ISO 9001 |
| Brand | Union Max |
| MOQ | 1 piece |
| Packing | Cartons |
| Material | Steel |
| Size | 1570*1240*2340mm |
| Color | Black |
| G.W | 135kg |
| Applicable | Home, Office, Gym |
| Usage | Fitness |