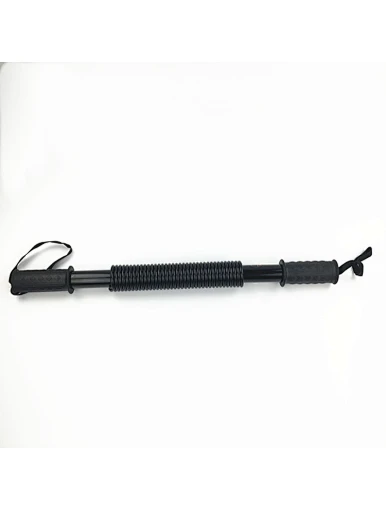 Power Twister
We can provide high-quality power twisters, if you need them, you can contact us.
Description of
 Power Twister
The power twister bar is a high-quality exercise tool, suitable for exercising arm strength indoors and outdoors, regardless of the occasion. Show your arm muscles, chest muscles, and biceps in the easiest and most convenient way.
Product Feature of
Power Twister
1. The arm power twister handle adopts ergonomic principles, feels comfortable, is non-slip, and is wear-resistant, there is 20-60kg for you to choose from.
2. The high-density spring steel has strong resilience, and the surface of the spring and handle steel pipe is thickened with electric baking paint. And do a brightening treatment, the surface texture is good, long-term use will not fade and will not fall off the paint,
3. Spring power twister Suitable for various occasions, home, office, park, etc., you can use a short time to practice.
4. Power twister bar suitable for different groups of people, can be used by men, women and children, and can be hung on the w
all for safekeeping after use.
5. After 1,000,000 pressure and deformation tests, it is safe to use and exercise.
6. The length of the safety rope is 9-10cm. Please be sure to put the safety rope on your hand when exercising to avoid accidents caused by hand slippage.
7. How to choose the right kg class:
Choose the appropriate weight in kilograms based on your body weight and the number of push-ups you can do at one time.
Please choose the number of kilograms carefully, it is recommended to start practicing from about 30 kilograms
.
Specifications of
Power Twister
Product Name

Power Twister

Origin

China

Brand

Union Max

Certifications

ISO 9001

Material

Steel

MOQ

2

pcs

Price

$

1.24-2.4

/Piece

G

rip

20,30,40,50,60kg

W

eight

56g

Packing

Carton

Color

Black

Usage

Arm

 

E

xercise

Application

Home, Gym, Outdoors
| | | | | | |
| --- | --- | --- | --- | --- | --- |
| Grip/kg | 20kg | 30kg | 40kg | 50kg | 60kg |
| Weight/kg | 0.65kg | 1.05kg | 1.15kg | 1.5kg | 1.55kg |
| Length/cm | 54cm | 58cm | 60cm | 60cm | 61cm |
| Spring Length | 20cm | 24cm | 25cm | 27cm | 27.5cm |
| Price | $1.24 | $1.8 | $2 | $2.2 | $2.4 |