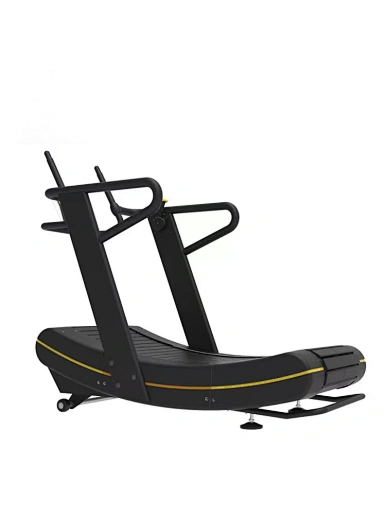 Powerless Treadmill
If you are looking for a powerless treadmill supplier, please contact Union Max Fitness. We are based in China and provide quality products for your needs.
Description of Powerless Treadmill
Powerless treadmills are a great choice for the home or studio because they do not require an electric power source and are more compact than motorized treadmills. They are environmentally friendly, power efficient and easy to store in smaller living spaces. Additionally, since they do not have a motor, users need to use their own body's power to propel them forward, allowing them to get a more intense workout in less time. This makes them safer to use than motorized treadmills.
Product Features of Powerless Treadmill
1. The curved buffer belt of the unpowered treadmill is ergonomically designed to prevent knee injuries and to correct running posture. Its core technology has been upgraded to offer an improved performance.
2. The rubber running belt is widened to 430mm and its hexagonal particles increase friction to ensure a safer workout.
3. The machine is made of heavy-duty stainless steel pipes and has a scientific load-bearing structure for more stability during the exercise.
4. It features 6-speed magnetic resistance adjustment and 4 sports modes for strength, speed, endurance, and sensitivity training.
5. As it has no motor, the exercise cost is low and it is easy to move with its bottom roller handle.
6. The rubber suction cup design at the bottom increases safety and provides support.
7. The small display can show time, mileage and other data in real time.
Specifications of Powerless Treadmill
| | |
| --- | --- |
| Product Name | Powerless Treadmill |
| Origin | China |
| Certifications | ISO 9001 |
| Brand | Union Max |
| MOQ | 1 set |
| Price | $1104.57-1276.00/set |
| Packing | Cartons |
| Material | Steel |
| G.W | 180kg |
| Color | Black |
| Speed Range | 0-20km/h |
| Size | 2000*900*1500mm |
| Brake Mode | Magnetic Resistance |
| Drive Mode | Gravity |
| Applicable | Home, Office, Gym |
| Usage | Fitness |