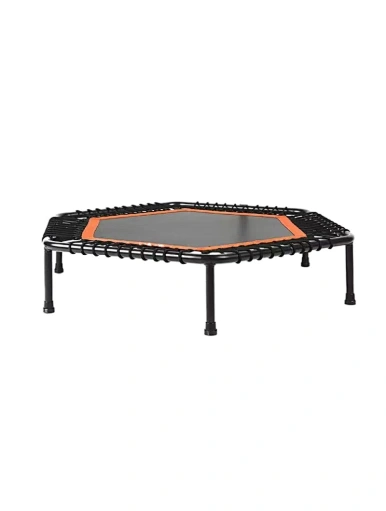 ​​​​​​​Hexagonal Trampoline
Union Max Fitness specializes in home workout products including the highest quality​​​​​​​ Hexagonal Trampoline. If you need this product, please feel free to contact us.
Description of

 

Hexagonal Trampoline
If you are looking for a high-quality trampoline for your home workout routine, look no further than our Hex Trampoline with Oxford Cloth material.
Product Feature of

Hexagonal Trampoline
1.Measuring 45 inches (frame diagonal diameter 111cm), it is the perfect size for indoor use without taking up too much space.
2.Made from 25MM thick frame and 1.2MM thickness, it ensures sturdiness and durability for long-lasting use.
3. With 6 jumping legs of 1.5MM thickness, it offers reliable stability while you exercise.
4. Trampoline legs stand at a height of 25MM, providing a comfortable exercise experience while ensuring safety.
5. Our Hex Trampoline features 36 elastic ropes of 8MM thickness that widens the elasticity of the trampoline to enable a more effective and comfortable workout.
6. It is easy to install with minimal assembly required, and comes with a green environmental protection design.
Specifications of Hexagonal Trampoline
| | |
| --- | --- |
| Product Name | Hexagonal Trampoline |
| Origin | China |
| Brand | Union Max |
| Certifications | ISO 9001 |
| Material | PP, Oxford Cloth |
| MOQ | 2pcs |
| Price | $24.76/Piece |
| Weight | 6.5kg |
| Diagonal Diameter | 111cm |
| Packing | Carton |
| Color | Black,Red |
| Usage | Leg Exercise |
| Application | Home, Gym, Outdoors |